With Deel Software, You should be able to tackle all of your human resources and payroll needs in multiple locations of your business. - (Deel Review)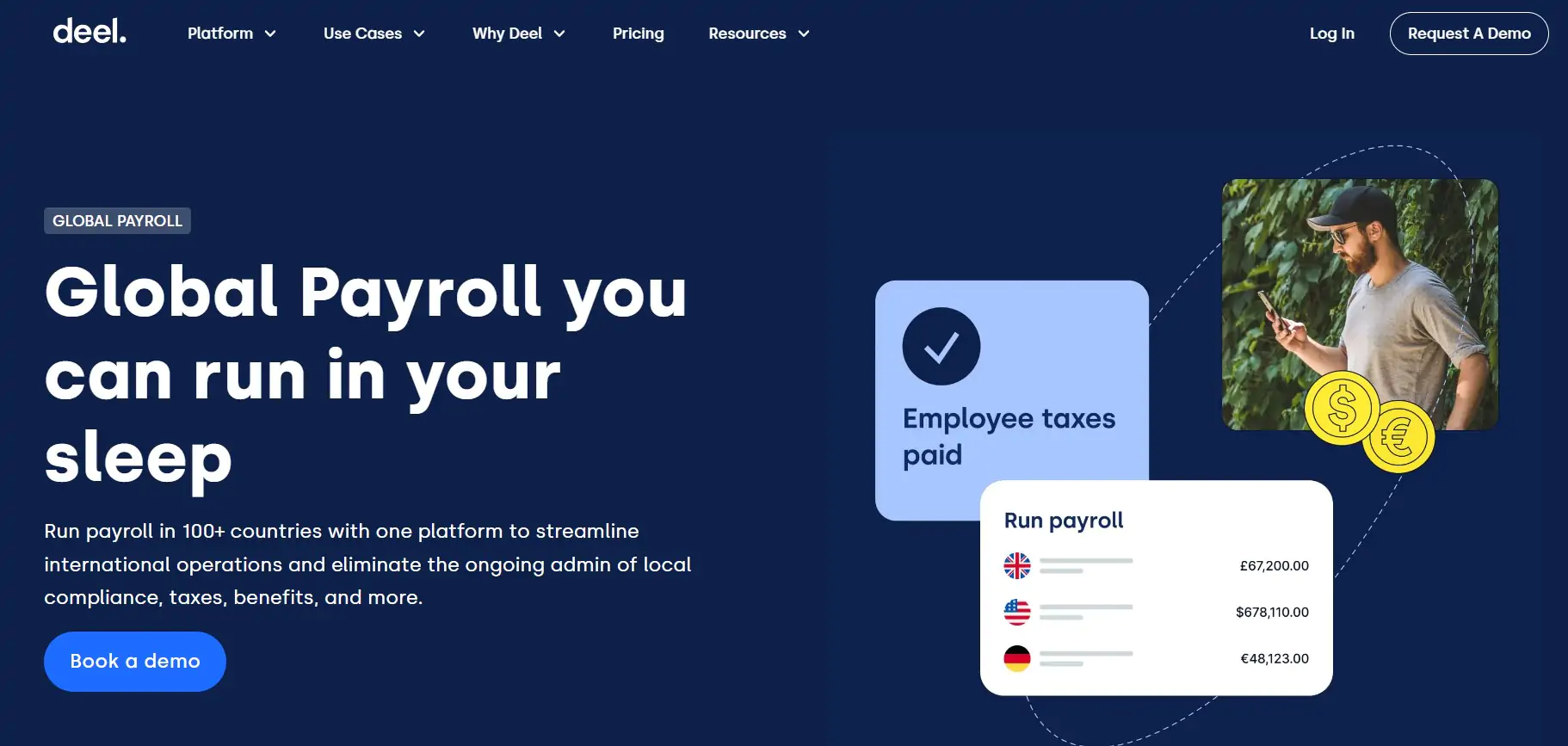 Our Verdict
As a global PEO service provider, Deel provides a robust payroll and HR expertise in over 150 countries. With intuitive payroll features and international payroll compliance expertise, Deel earned our best pick for international payroll.
Deel.com
+ Simple but powerful design
+ Base product is affordable
+ Powerful structure
+ Great templates (Built-in expense and time-off management tools)
+ Free online account sign-up (you can explore its features at no cost); you will only be charged when you hire and pay global workers
+ Assigns a dedicated customer success manager (CSM) to its clients
+ Multiple payment options (such as via bank transfer, crypto, bitcoin, digital payment processors, and a contractor card)
- Doesn't offer a special plan or discount for hiring refugees
- Like many international PEOs, Deel is more expensive than most domestic PEO services
- Dedicated CSM is not provided to small businesses (only available to enterprises)
Deel.com is a Global Payroll and HR solution software for businesses with plans to expand globally while being compliant with International laws.
It offers employer of record (EoR) services, which enables you to hire, onboard, and pay employees and contractors in more than 150 countries.
Running global payroll is also a breeze with its easy-to-use online platform and multiple payment options. Further, its network of over 200 in-country expert partners ensures you remain compliant with local laws and tax regulations.
Its monthly fees for hiring and paying international contractors start at $49 per worker. If you need EoR services, Deel will charge you $599 per employee monthly. For qualified venture capital (VC)-backed startups, you get discounted pricing on your first year.
These and more are what we're going to look into in this Deel Review…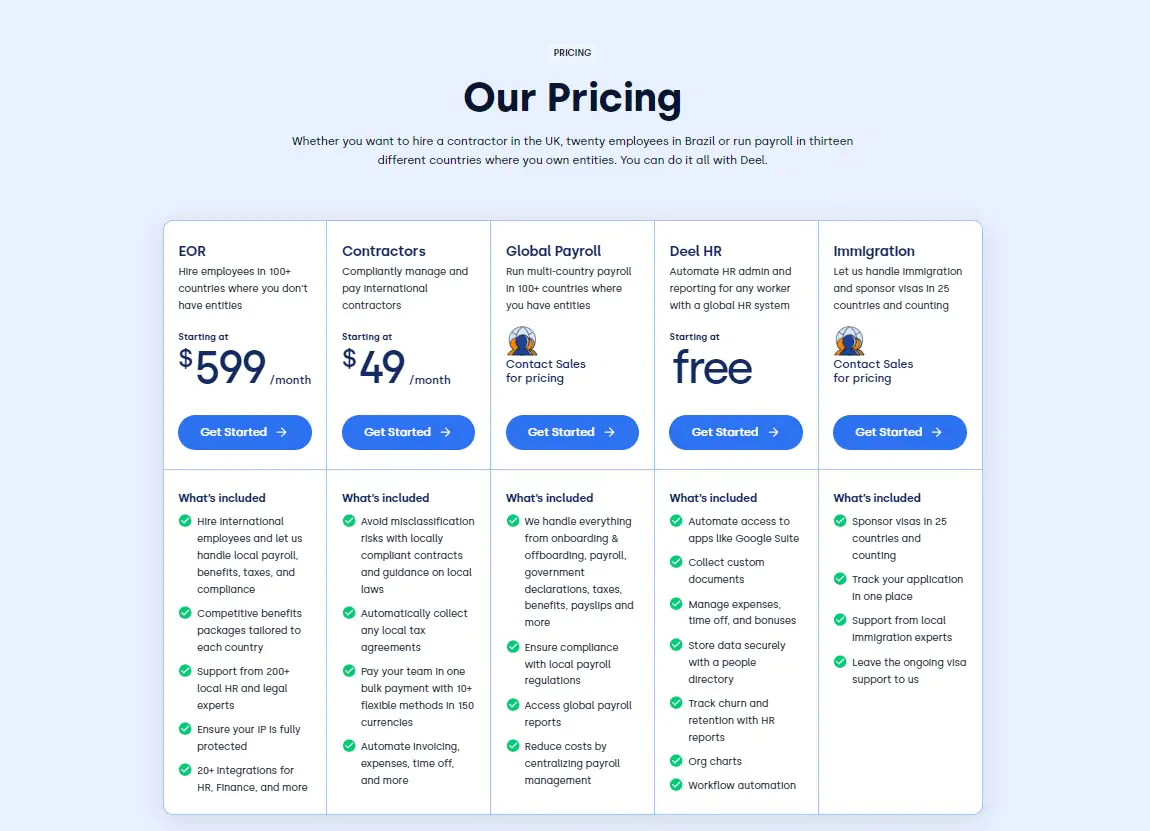 As we conduct this Deel Review and evaluation, we noticed that Deel.com nearly earned a perfect score for pricing given its reasonable fees, multiple plan options, and separate payroll plan for contractors.
For clients who are contractors, Deel.com offers three packages with monthly fees that start at $49 per worker. Meanwhile, its pricing plans for employees are based on whether or not you own business entities in countries you want to expand to.
Note: Aside from automated payroll with one-click payments, all Deel pricing packages include access to local benefits plans, expense and time-off tracking, tax document management, customizable contracts, data protection agreements, compliance support, and intellectual property and invention rights protection.
Contractors
Hire contractors:

For $49 per worker monthly, you can compliantly hire and pay contractors in 150+ countries, as well as use Deel's localized contracts, online onboarding, automated invoicing, and document management tools.

Deel Premium:

This custom-priced package comes with an additional layer of protection against contractor misclassification issues. If a misclassification claim arises, Deel will cover all legal fees, tax penalties, and third-party indemnity costs of up to $25,000.

Deel Shield:

The differences between this custom-priced plan and the Deel Premium tier include access to a global team who can help manage administrative HR tasks and a more robust contractor misclassification protection service. With this plan, Deel will review each contract and confirm whether or not you can hire the worker as a contractor. Deel will even assume total liability for contractor misclassification cases.
Employees
Hire employees:

For $599 per employee monthly, you can make use of Deel's local entities in 80+ countries to hire, onboard, offboard, and pay employees.

Run global payroll:

This custom-priced plan is ideal for businesses with local entities worldwide and only need a payroll tool to pay international employees.
Deel.com has a large number of excellent features that are designed for international businesses, earning it a spot on our best PEO services list.
Their strongest offerings relate to international payroll, but there are plenty of other features that can also help your business manage both domestic and global HR.
Here are some of the key features you'll find while using deel.com
Deel's platform can automate payroll processing to save time on administrative activities. Deel will calculate payments, taxes, and deductions, and then automatically create pay stubs and invoices.
Employers can easily view and approve payments with one easy-to-read report each pay cycle. Depending on the countries that you wish to operate in, Deel may be able to fully manage the payroll process and pay taxes and employee wages on your behalf.
Deel isn't just for paying employees; customers can also use the service to hire and pay international contractors.
Contractor payment can be managed within the Deel payroll platform so that you can easily view everything in one place.
Deel also supports U.S.-based staff and local payroll compliance. The platform can automate state and local compliance related to different wage and hour laws that vary across the United States.
It will also calculate U.S.-based withholdings and taxes, such as Social Security and Medicare. Deel will also create and file tax documents, such as W-4s and 1099s, for domestic employees.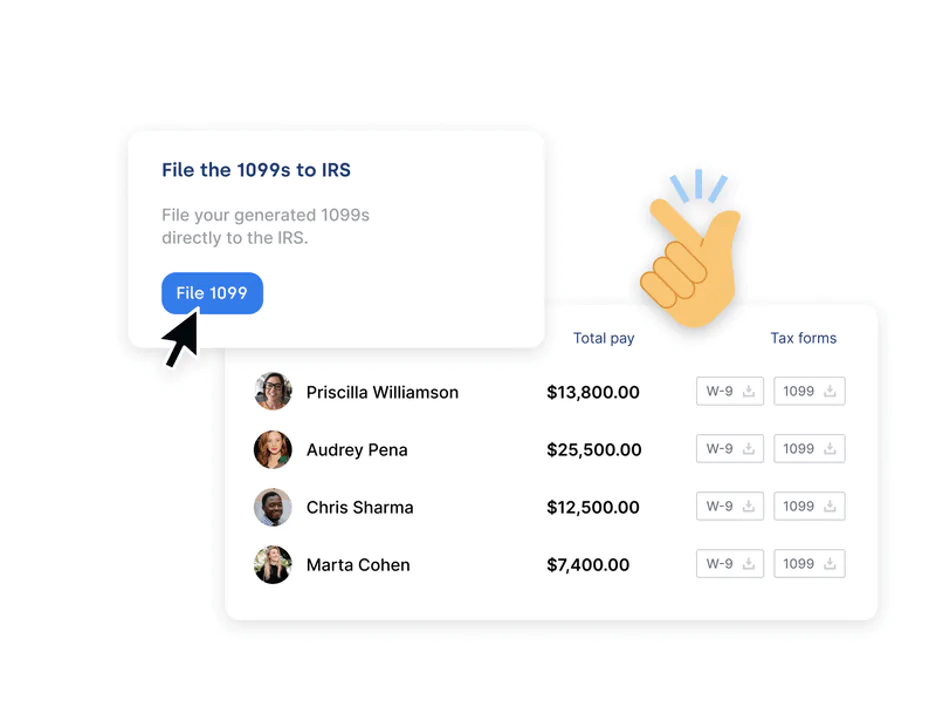 Contractors can opt to get a Deel card (costs $5), which they can use to receive their payroll in USD. The card also works as a debit card, allowing your team members to use their earnings to purchase personal items either online or in-store.
The Deel card is available as a virtual card, which is optimal for online purchases only. For an additional $5, your contractors can apply for a physical card for both online and in-store purchases.
If your contract workers opt to get a physical card, they will receive the item in around 10–15 days after the online application, depending on the location.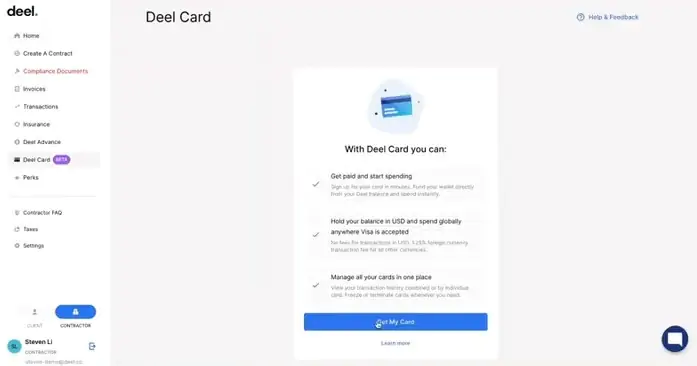 As of this writing, the Deel card is available only in the following countries:
Argentina
Columbia
Georgia
Mexico
Nigeria
Pakistan
Peru
Philippines
Serbia
Turkey
United Kingdom
USA
Note: Deel card transactions that are non-USD have a 1.25% fee. The card also doesn't automatically have ATM withdrawal capabilities, but you can apply for it.
For the card to be eligible for ATM withdrawals, it has to be an active account and your business must pass Deel's know your customer (KYC) process. This process involves verifying your identity and checking whether there are potential risks of unlawful use of Deel's platform.
In addition to its contractor misclassification risk protection services, which include contract review and liability coverage, Deel has over 200 legal hiring experts around the globe to help keep you compliant with local labor laws and regulations.
Signing up for its Deel Shield contractor plan even provides access to a global team who can help you manage HR administrative tasks.
If you require visa assistance for your international workforce, Deel's in-house team of experts can help handle this for you—from assessing your employee's work visa eligibility based on local requirements and providing visa application support.
However, as of this writing, this service is available only in the following countries:
Canada
Spain
USA
Netherlands
France
Germany
Mexico
Portugal
Sweden
Colombia
Poland
Denmark
Singapore
Finland
Belgium
UAE
Lithuania
Estonia
Latvia
Mauritius
South Korea
Deel's online platform is designed to streamline and automate the onboarding process, helping you collect information and required employment documents from your new hires.
It also offers 24/7 support in 12 languages in case your employees have questions about the onboarding process or need assistance with setting up their Deel online profiles.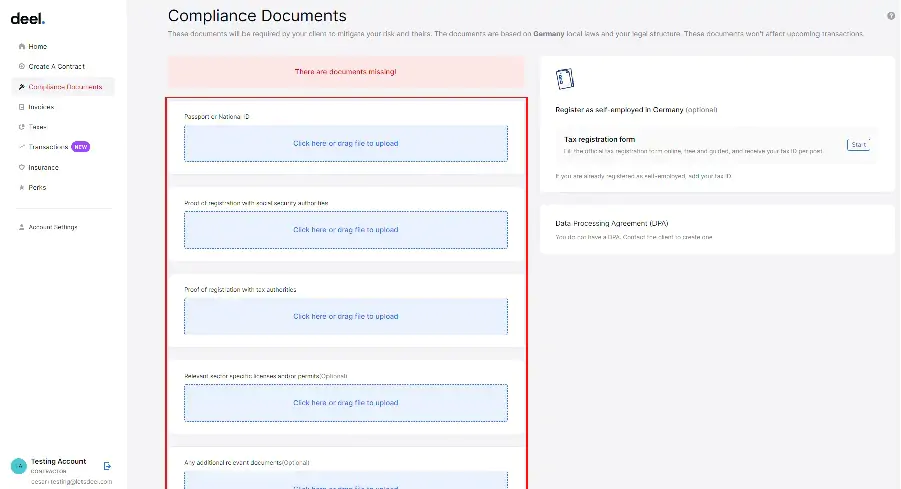 If you have global work-from-home employees, Deel's partnership with Hofy lets you find, rent, ship, and retrieve your remote team's computer devices and peripherals, like laptops, computer monitors, webcams, keyboards, headphones, and mobile phones.
In addition to sending the items via door-to-door delivery, Hofy will handle customs, tax compliance, and shipping documents for you.
In case your employees require IT support, they can contact Hofy's Remote IT Service Desk for assistance. For laptop repair, Hofy will help with the repair service and provide a loaner device if your employee needs one.
Deel also offers a Deel Equipment solution, which allows you to create and send agreements to compliantly assign business devices and tools to your global employees and contractors.
This service costs $19 per item, and Deel will only charge you after the agreement is signed by all parties (note that this doesn't include Hofy's rental fees for the equipment).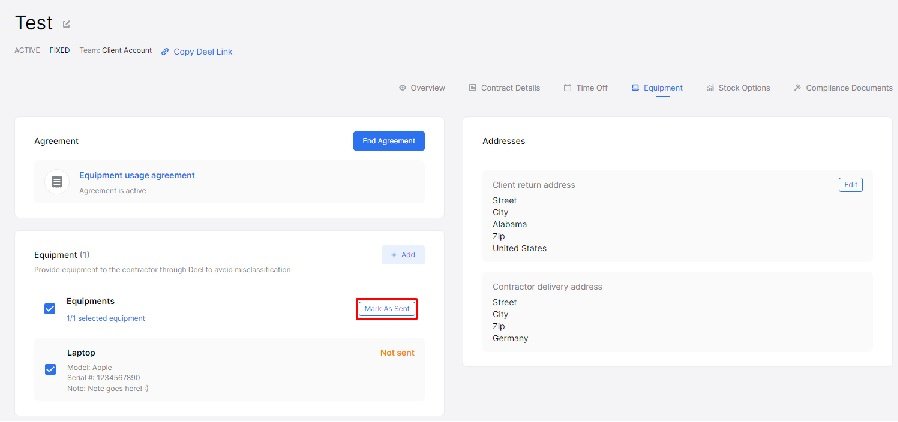 Deel Review Summary: (What Users Think About Deel)
Many of the Deel reviews on third-party review sites like G2, Capterra, and Trustpilot are positive.
Now, most of the positive Deel reviews are about its solid EoR and payroll solutions that make handling hiring and employee management processes easy for global businesses. Several users also appreciate the onboarding and account support that Deel offers through its customer success managers (CSMs).
Those who left Deel payroll reviews like that its online platform provides visibility on all payments and comes with various currency options and salary withdrawal methods. They even highlighted its software's ease of use, legal local contracts, and online onboarding tools as some of Deel's best features.
On the other hand, some reviewers said that Deel's pricing can be a little high, especially if you have a large team. Others mentioned that its reporting tools aren't robust and that its in-app chat support tool can be glitchy at times.
Several other users also commented that while you get good service from Deel's CSMs, the quality of support you receive from its general customer service team is less than ideal. A few reviewers complained of having experienced poor after-sales service and encountering unresponsive support reps.
At the time of this Deel Review publication, Deel reviews earned the following scores on popular user review sites:
Best for: Small to midsize companies needing affordable international payroll services
Best for: Employers looking for global payroll with stock option tracking tools
Best for: Tech-heavy businesses that want global HR, payroll, and Accounting solutions

Pricing starts from:

$650 per employee for EoR services; $12 per employee for global payroll

Pricing starts from:

$699 per employee for EoR services; Custom-priced for global payroll

Pricing starts from:

$15 to $35 per month, depending on the features your business require
Are you a business owner planning to expand business operations outside of the US and also ramp up hiring to complete your global workforce? Then, Deel is a great option for you.
Its EoR service removes the burden of handling global hiring, payroll, tax, benefits, and HR processes by yourself. Deel's international payroll services also cover more than 150 countries, with the provider owning local entities in 80+ locations.
Even if your business lacks a legal entity in a country, Deel's partner of 200+ local experts can guide you through the complexities of finding, recruiting, paying, and managing a global workforce.
Sign up for a Deel plan today.
Frequently Asked Questions
Deel is one of the best Global Payroll Software and HR Solutions that employers can use to manage international workforces.
The platform has HR capabilities to support workers (employees and contractors) in more than 150 countries and process payroll in more than 120 currencies.
Deel can also help run background checks
Yes. If you partner with Deel to manage your United States workers, you can file your U.S. contractors' income with the IRS through a 1099-NEC form.
Deel's PEO service is not free, but the company does offer some of its HR tech platform tools for free to businesses with fewer than 200 employees.
Yes. Deel supports payroll and hiring within the United States.
The company is best known for its international services, but employers can also use Deel as an employer of record within the U.S.
Yes. Deel will deduct payroll taxes from employee payments in accordance with local regulations.
It is one of the best payroll provider for your business.