Getting a dollar card is easy and in this quick guide, I'll be showing you how to open a virtual domiciliary account with grey and also get a dollar card.
With this dollar card, you can make purchases online and don't need to worry about high conversion rates again, especially if you are in Africa.
Alright, let's get started.
What is Grey Finance?
To answer your question, have you heard of Payonner or Wise Bank? Well, that is exactly what Grey is all about. It is an online banking system that enables users to open a foreign account virtually in other countries like the USA, UK, etc.
READ ALSO: Best LLC Formation Services and Agencies in the USA
How To Open an Account with Grey & Get a Dollar Card [Step-by-Step]
Just follow my exact step-by-step guide here to open your own account and get a virtual dollars card today.
Step #1. Visit www.grey.co and Click on Register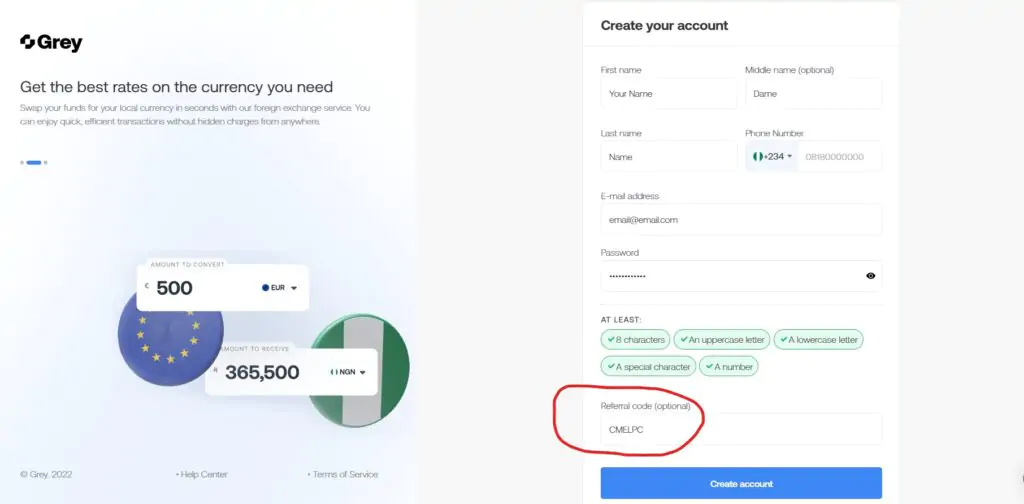 Enter all your info and make sure that your email and phone number are correct. Also, make sure that your name matches the one on your ID card because you will need to verify your identity with an ID card.
NOTE: In the Referral code box; copy this: CMELPC and paste it in there. This is my referral code, and if you use it, Grey will give me a little bonus for showing you how to do this. So, feel free to appreciate me by using that code. Thanks!! 
Step #2. Account Verification Process
Now that you have created an account, it's time to verify your identity. Don't worry, this process is simple and you should be done in no time.
Just like every other bank, you'll need to verify your Identity. So, submit the requested ID confirmation on your dashboard and wait for them to review it. Once it is approved, you can now request a dollar account.
Step #3. Domiciliary account Request
Once your account is approved, you can now request a dollar, Euro, and Pounds account.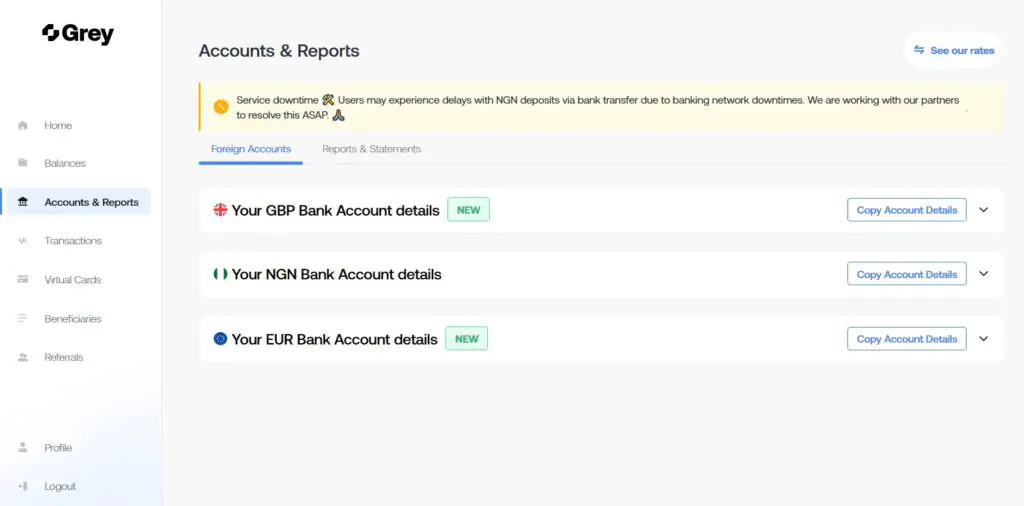 As you can see in the image above that I've already gotten mine. All you need to do as a new user is click on the request button. They will use the information you submitted for verification to create a foreign account for you.
With these accounts, you will be able to send and receive payments internationally.
Step #4. Request a Dollar Card
You'll need a US bank account active before you can request a dollar card, that is why we covered that above before getting here.
After you have requested a US bank account and have been approved for one, you can now proceed to get your dollar card ready.
You'll need at least $10 in your account to create your dollar card. Don't worry, I'll show you how to fund your account with Naira and convert it to dollars.
How to Fund Your Dollar Card
It's very easy to do; all you have to do is click on "Add Money" and select the wallet to which you want to add money from, as seen in the image below: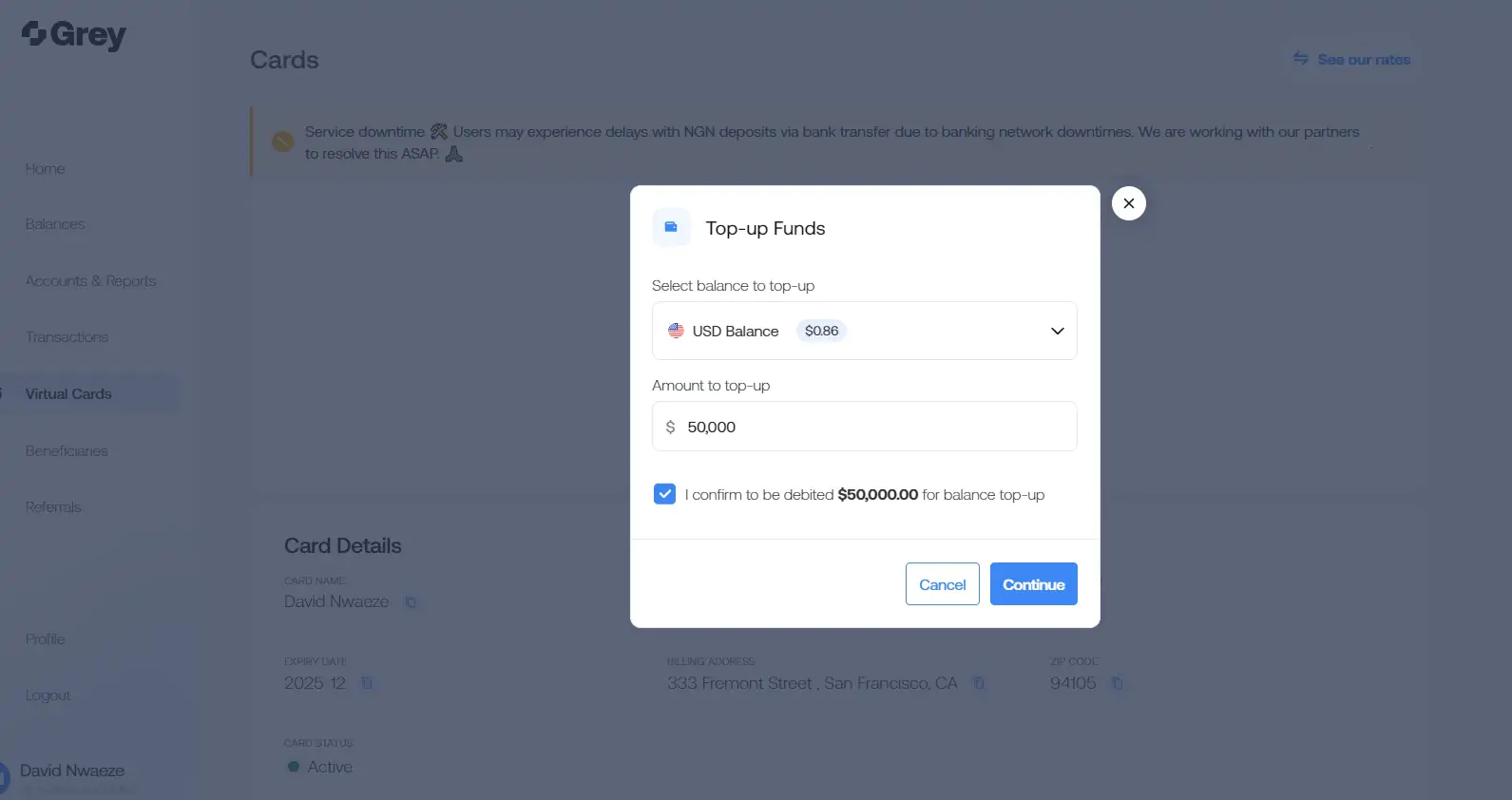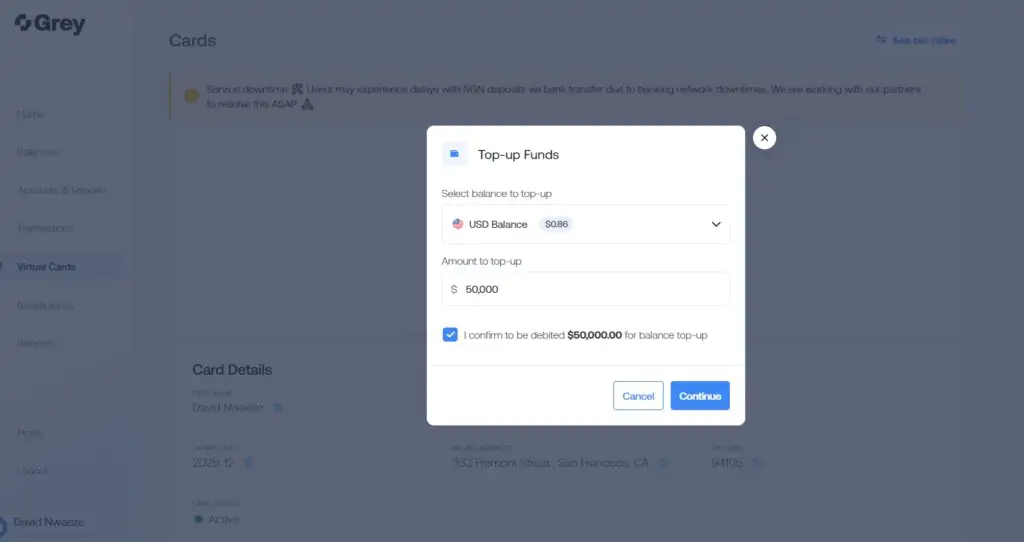 Enter the amount you want to add to your card and click on Continue.
READ ALSO: QuickBooks Review 2023 | Things You Should Note Before Switching Payroll Provider 
How To Fund Your Grey Wallet with Naira or Local Bank
When requesting foreign bank accounts, there's an option to also request a local bank account, such a as Nigerian Bank account, Ghana, etc.
Make a request for the local bank account and your account will be created for you, then you can fund the account by making a normal bank transfer to the new account in your local currency.
There are two options when it comes to funding the account, the first and easiest is to make a transfer to the local bank account created for you. The deposit will show up on your grey wallet instantly.
Or, you can link your banking app to grey and make the deposit automatically through the grey app as seen below: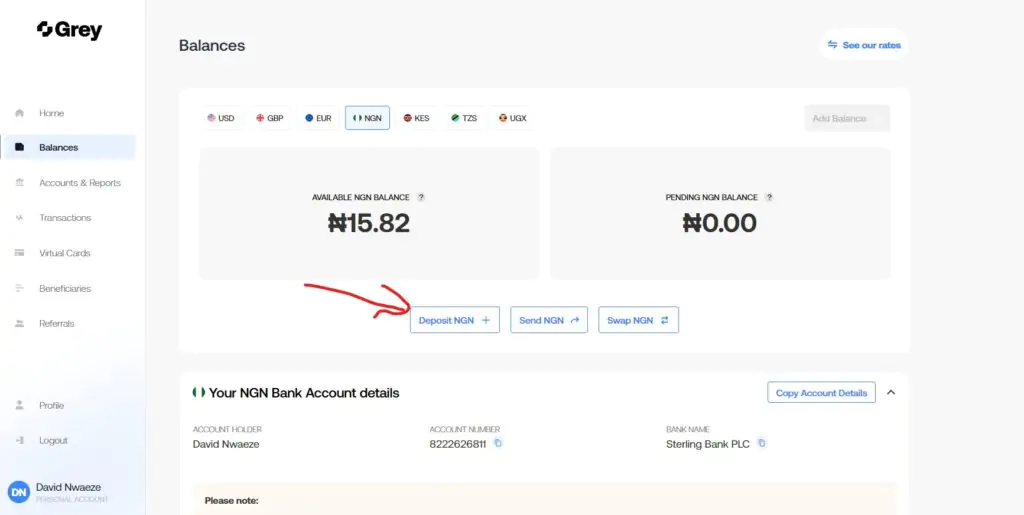 All you need to do is, visit the Balance menu and click on deposit NGN.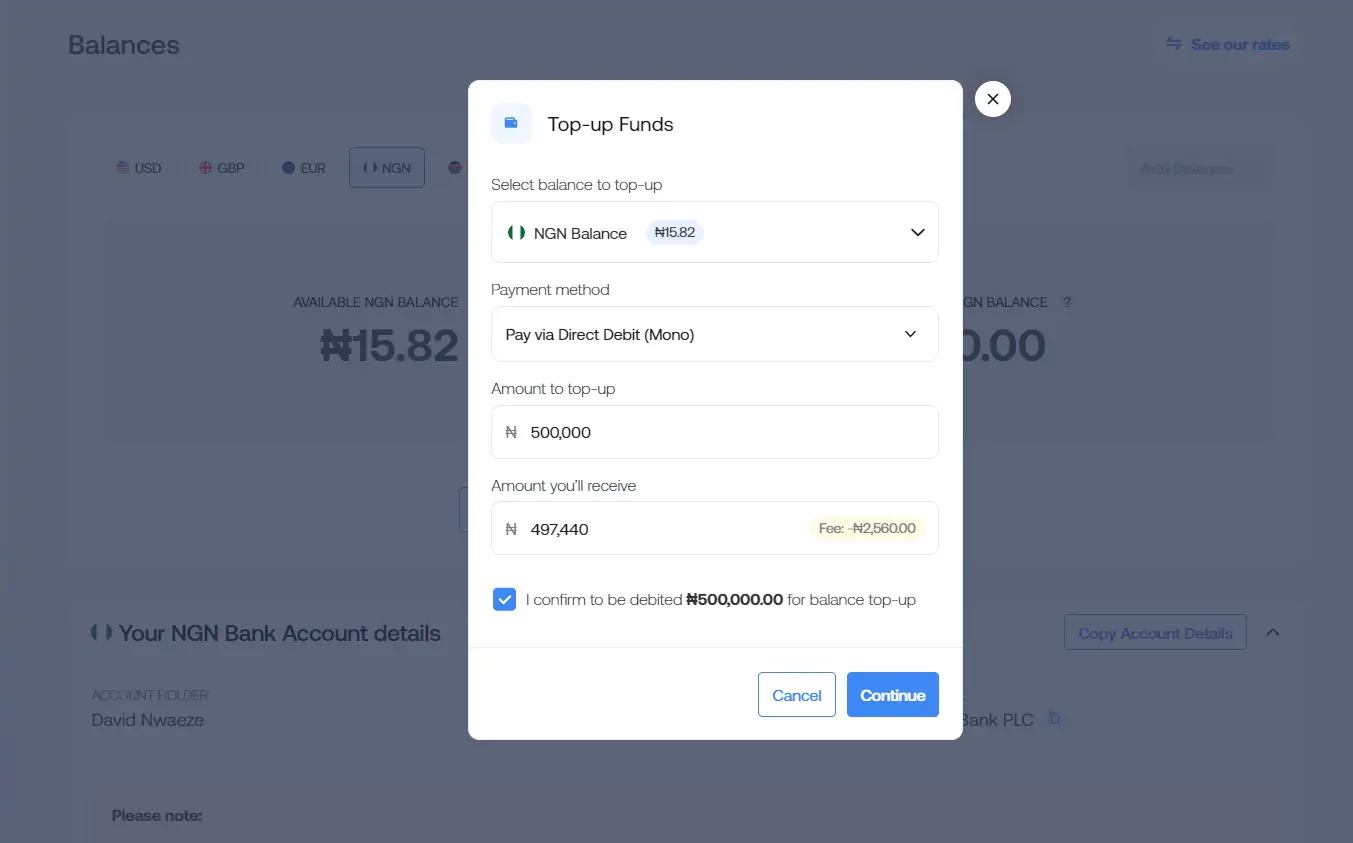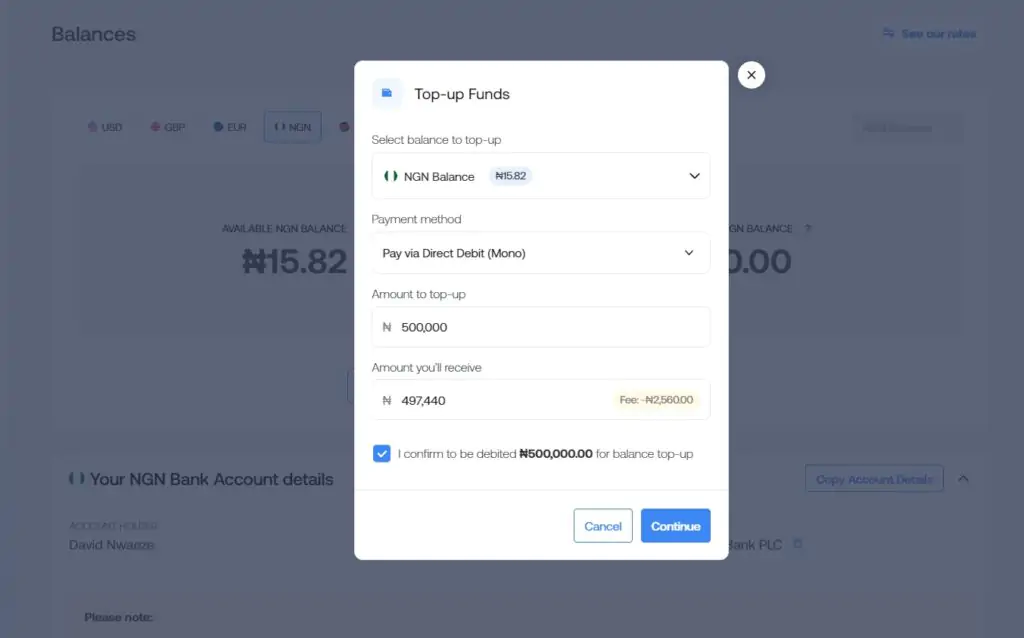 Enter the amount you want to deposit and continue.
The system will redirect you to a more secure authentication process where you will link your banking app to grey and then be able to make the deposit.
As you can see, this second option is a bit longer compared to the first option. So make your choice about which one is better for you.
READ ALSO: How to Open a Stripe Account in Nigeria (Stripe in Nigeria 2023)
Grey.co Alternatives
There are other alternatives to grey.co and they include the following:
Summary
Now that you have learned how to get a foreign account and a dollar card for all your online transactions; I hope you implement it right now and never be limited again.
I try my best to guide you on how to do things online, so if you have any questions or topics you want me to cover, let me know in the comments. Enjoy!