This WP Engine Review will reveal the very components and features that make WP Engine special to WordPress users; As you may well know that WP Engine is the #1 WordPress Hosting provider by thousands of WordPress users. So, let's find out if that's true or not.
WP Engine specializes in VIP-managed WordPress hosting. As pioneers in the managed WordPress hosting industry, they boast an impressive customer list including Yelp, Asana, National Geographic, PBS, and MyFitnessPal. WP Engine is an ideal choice for those looking for hassle-free premium WordPress hosting.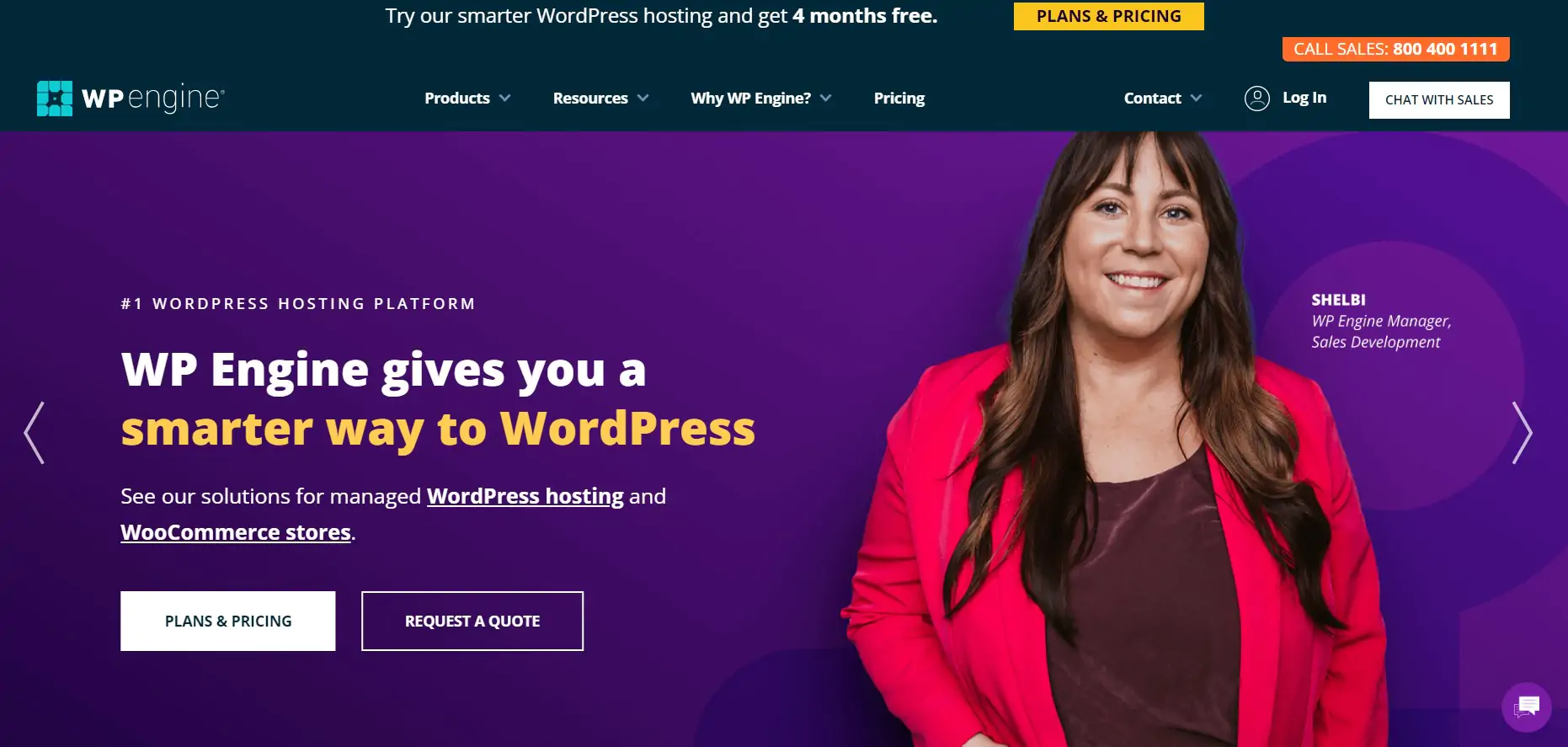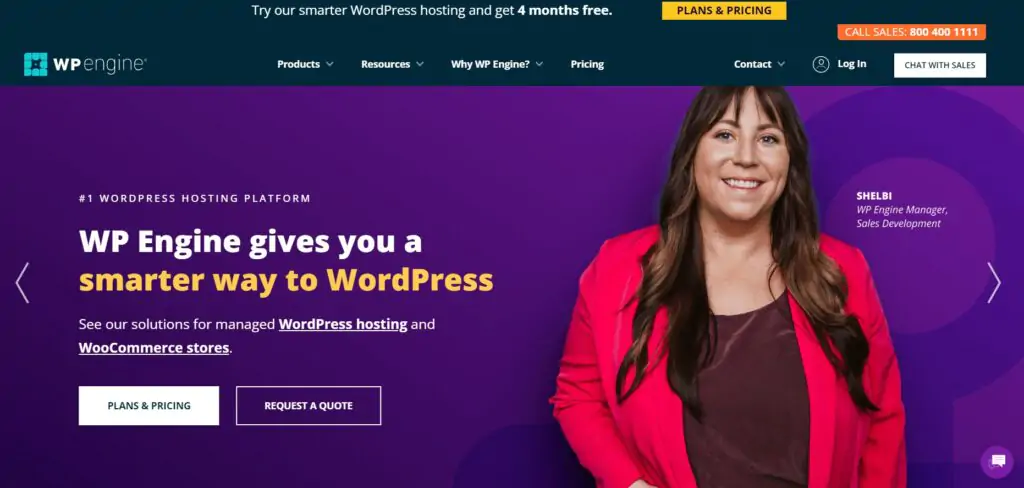 Read our expert WP Engine review to see if it's the right choice for you.
This is going to be a detailed WP Engine review, which will take an in-depth look at their services. If you don't want to read all of it, then here is a quick summary of our WP Engine review score.
WP Engine Review Summary
Performance grade
A+
Average load time
337 ms
Average response time
123.8 ms
Free Domain
No
Free SSL
Yes
1-click WordPress
Yes
Support
Phone / Live Chat / Knowledge base
WP Engine Review Summary
Bottom line: After our intense WP Engine hosting review, we definitely found them to be the best-managed WordPress hosting provider you can get your hands on. 
They offer the best platform, with faster servers, security, and peace of mind that users need from a managed WordPress host.
Alright, with that being said, let's do a deep dive and get into more details about how WP Engine works, and also how we reached this conclusion.
READ ALSO: A2 Hosting Review: Features, Pricing, Pros & Cons 
Introduction to WP Engine
WP Engine was founded in 2010 by Jason Cohen; today it is now one of the leading managed WordPress hosting companies in the market. Serial entrepreneur Jason Cohen started WP Engine when he saw a need for specialized WordPress hosting due to the rising popularity of WordPress.
WP Engine is Headquartered in Austin, Texas with offices in San Antonio (Texas), London (England), Limerick (Ireland), Brisbane (Australia), and Kraków (Poland).
The company has won multiple awards for Best Place to Work in Austin and consistently contributes to the WordPress core and community.
WP Engine is one of the best-managed WordPress hosting services out there for website owners wanting to take a hands-off approach to website management.
With excellent uptime, a high-performance hosting environment, real-time threat detection, and numerous premium hosting features, WP Engine is the best WordPress hosting service for managed hosting.
WP Engine Compared to The Best Web Hosting for WordPress
WP Engine has been criticized several times as one of the most expensive web hosting companies out there. But if you understand the value of time and money, then you will find it easy to justify their high costs.
If you are trying to save every dollar on a hosting plan, then WP Engine is not for you; but if what you want is to get the most value for every dollar you spend, then WP Engine is your best possible bet.
It's one of the best-managed WordPress hosting services, no question. effectively taking care of the three horsemen of the web apocalypse: downtime, internet security, and page loading speed.
WP Engine Hosting Plans and Pricing
WP Engine has three (3) main hosting plans which include Managed WordPress Hosting, eCommerce Solutions for Woo Hosting, and the Advanced Solutions Hosting plan. Depending on what you want to achieve with your website, you'll be able to choose from the three.
Truly, there is no other way to put it; WP Engine is very expensive. Is it worth the cost? The answer lies in figuring out what you are paying for.
You can get shared hosting that can handle the same amount of traffic as WP Engine for a fraction of the price. You can even get dedicated hosting for the same price as WP Engine.
What you are really paying for here is security, performance, speed, and, most importantly, peace of mind. The ultimate question is how much these things are worth to you.
Now, the Managed WordPress Hosting plan also has different packages you can choose from at different prices. I've explained them below:
The Startup package is the most basic plan and will set you back $25 per month when paying annually ($30 if you go month-to-month). With this package, you get:
25,000 visits per month
50GB bandwidth per month
10GB storage
One site included
WP Engine targets small websites and blogs with this plan, but we think it may be overkill for most people in this category. You can get a far better deal with shared hosting at Bluehost.
However, if you don't want to take any chances with uptime or need a guarantee that your website can handle 25,000 visitors per month, WP Engine is a sure bet. We'd recommend this option to small businesses, affiliate websites, and blogs making good money and want assurances that nothing will change.
You can save $60 per year or two months free if you pay annually.
The Professional package is a nice middle ground between entry-level and high-octane. For $49 per month when paying annually, you're allotted:
75,000 visits per month
125 GB bandwidth per month
15GB storage
Three sites included
This can be the perfect option if you're unhappy with your current host but your site's already getting too much traffic to stick on the most basic of hosting plans.
You also get a really solid deal compared to the plans above and below it. While its resource limits may not blow you away, you're getting the most bang for your buck on the Professional plan from WP Engine.
You can save $120 per year if you pay annually, the month-to-month bill will run you $59.
The growth plan targets fast-growing businesses and will cost you $95 per month. Here you get:
100,000 visits per month
200GB bandwidth per month
25GB storage
Ten sites included a while
This plan is a great entry point for a growing business, and it might be a while before you need to upgrade. With this plan, you also get 24/7 phone support in addition to round-the-clock chat support. This addition will come in handy if you have a complex issue that you need to resolve quickly.
You can save a cool $230 or two months free with annual billing.
WP Engine advertises its scale plan as the best value option. This one costs $241 per month. Here you get:
400,000 visits per month
500GB bandwidth per month
50GB storage
30 websites included
We recommend this option for a fast-growing blog or business. You get access to 24/7 live chat and 24/7 phone support in addition to the support center.
You can save $580 or two months free with annual pre-paid billing.
Finally, if you have a mission-critical website or large business, the Custom plan may be appealing. With this plan, you get:
Millions of visits per month
400GB+ bandwidth per month
100GB-1TB storage
30 sites included
You will have to speak to a sales rep to get your personalized quote depending on your requirements. This plan also offers proprietary support should something go wrong.
READ ALSO: Pressable Hosting Review [Features, Benefits, pros & cons] 
WP Engine Features
WP Engine has so many features that make them stand out from there hosting companies out there and these features are;
#1. Advanced Security Features
WP Engine also offers a number of premium security features. The WordPress core is automatically updated to the latest version for you.
WP Engine thoroughly tests any major core updates before upgrading its customers. They have a proprietary intrusion detection and prevention system to block any DDoS attacks, brute force attacks, malware, JavaScript/SQL injection attacks, and more.
They also partner with third-party security firms to conduct regular code reviews and security audits.
Your security is guaranteed, so if you get hacked WP Engine will fix it for free.
#2. WP Engine Local Development
WP Engine offers a full-featured local environment, giving developers more freedom and flexibility. You still get access to your favorite debugging tools, including Xdebug, WP-CLI, and MailHog.
The one-click WordPress installation allows you to start building your local WordPress site instantly. You can also work in your preferred environment, including MySQL and Hot-Swap PHP 5.6 and PHP 7.3.
#3. Top-notch Customer Support and Service
WP Engine has a dedicated support team of WordPress experts. They boast over 97% customer satisfaction with thousands of customer interactions per day.
Support is available 24/7 via live chat support for all customers. Phone support is available 24/7 with all plans except for the Startup plan. If an issue can't be immediately resolved via chat or phone, the support staff will create an internal support ticket for you.
Enterprise customers get access to 24/7 ticket support via email. Premium and Enterprise customers receive a consultative one-on-one onboarding experience as well.
WP Engine also has a dedicated Customer Experience Operations team. They work to continually improve the WP Engine customer experience.
Apart from that, they have an extensive library of knowledge base articles, how-to guides, and tutorials for users who want to fix things on their own.
#4. WP Engine Environments
WP Engine offers three environments, including Development, Staging, and Production. Access to all their environments is included in your plan at no extra charge.
The development and staging environments allow you to make changes or modifications without affecting your live website.
By creating a replica of your live website, you can check for bugs and errors without losing the site's functionality. You don't need to go into maintenance mode to make changes.
#5. WP Engine Automated Backups
Away from the more dev-facing functionality, WP Engine automatically backs up your website daily to protect your data. You can also backup your site manually.
There are up to 40 backup points available and up to 60 most recent backup points if you contact support. Rolling back your website to a previous version is as easy as selecting a backup point and clicking Restore.
#6. WP Engine CDN and SSL Certificates
You get free access to the global Content Delivery Network (CDN) with a single click of a button.
With this functionality, you can disperse large static assets like images to various server locations worldwide. Your users enjoy faster download speeds, even during peak traffic.
CDN is available on all WP Engine plans.
Additionally, you get a free SSL certificate, adding an extra layer of encryption to your site.
#7. WP Engine Proprietary EverCache®
With EverCache, you don't have to worry about the impact of increased traffic on your page speed. This feature automatically caches static content on your site. Additionally, the system evaluates all your incoming traffic and determines which ones to serve and which ones to block.
EverCache is a built-in caching system that you can customize to meet your unique caching rules.
#8. WP Engine Managed Core Updates & Patches
The main appeal of managed web hosting is its hand-off approach to running your website. WP Engine automatically adds new options and features to the WordPress core to improve your site's functionality.
The host also automatically updates security and maintenance releases.
WP Engine rigorously tests all WordPress updates, and you have the option to defer some of the updates.
#9. WP Engine Threat Detection & Blocking
One of WP Engine's best features is its proprietary approach to security. The host logs all attempts to write to the disk and can quickly identify malicious and non-malicious code.
Other security measures include disallowed plugins (those known for security vulnerabilities), and a proprietary firewall that can automatically detect malicious traffic, and automatically block requests attempting to scrape for author ID information.
#10. Premium WordPress Themes
WP Engine recently acquired the popular premium WordPress theme company StudioPress.
Now all 36+ premium StudioPress themes and the famous Genesis framework are available to all WP Engine customers for free.
The Genesis Framework is known for high-performance and SEO-friendly themes. Their code base is optimized for faster page load times without compromising functionality.
Yes, you get all these great-looking and well-coded themes at no additional costs – this is over $2000 in additional value for free!
READ ALSO: Hostinger Review as an Expert 
WP Engine Pros and Cons
| | |
| --- | --- |
| Pros | Cons |
| – Security – WP Engine keeps your site protected with many advanced security features that other hosts don't offer. | – Disallowed Plugins – WP Engine does not allow you to install certain WordPress plugins on your site, either because they conflict with or duplicate WP Engine's features, or cause a high server load. This includes many caching, backup, related post plugins, and others. |
| – Fast Loading Times – Servers are optimized for WordPress with WPEngine's own Evercache technology your website loads fast. Plus, you get access to CDN which further boosts performance. | – No Domain Registrations – WP Engine offers only hosting services, not domain name registrations. This means you'll have to register your domains with another company, which some users may find inconvenient. |
| – Reliability – WP Engine's proprietary front-end layer system can handle traffic spikes easily without slowing down your site. | – Higher Costs – When compared to shared hosting, WP Engine is more expensive, but the services they offer are well worth the investment. |
| – WordPress Expert Support – WP Engine's entire support staff is comprised of trained WordPress experts. | |
| – Positive Reviews – WP Engine is an incredibly popular host that gets great reviews from many customers for their reliability and excellent customer service. | |
WP Engine Pros and Cons
WP Engine Hosting Quality & Perfomance Test Results
Nwaeze David users trust our reviews because we only recommend products and services that we have used ourselves. We go and sign up for each top WordPress hosting company to thoroughly test their claims with our own industry-standard tests.
For this review, we created a WordPress website on WP Engine. Using the default Twenty Seventeen theme we filled the website with dummy data including media and images. This way our test site looked and behaved like an actual average WordPress site.
WP Engine Speed Test Results
After setting up our test site, we first ran the speed test. Using the Pingdom tool we tested our sample site on WP Engine servers.
Here are the results:
Our test site loaded in less than half a second. Considering that we didn't need to install any performance optimization this result is quite good.
WP Engine Stress Test
Next, we wanted to check how WP Engine servers respond under peak traffic. To measure this we used a tool called K6 (formerly LoadImpact). We gradually built up to 100 unique visitors at once to see how the server would handle increased requests from multiple connections at once.
Here are the results:
The blue line represents response time and the green line represents the number of users on the site. As you can see, our test site performed really well with minor spikes. It maintained an incredible response rate throughout the test.
As you can see in the chart, that WP Engine server performance remained steady throughout the test as the numbers of users increased. The uptime remained steady with no downtime recorded during the stress test.
WP Engine Server Response Time
The next thing we tested was the server response time from different geographic regions. For this test, we used a tool called Bitcatcha.
Here are WP Engine's server response time results:
As you can see in the screenshot, WP Engine server response time remained under less than half a second for all geographic locations. It was particularly great in the United States.
WP Engine Alternatives
WP Engine is just one of many excellent web hosting services for WordPress. Check out our top picks for more options and help finding the perfect web host for your needs.
One of the most common thing you hear from WP Engine detractors is its high cost. Few people have any real qualms about the host's actual product offerings. If you are running a small website or blog, you probably don't need most WP Engine features and functionality.
However, if you have a medium to large website with tens of thousands of monthly visitors and growing rapidly, you may want to seriously consider WP Engine. This host allows you to focus on your core business, all the while giving you the peace of mind that your website is available, fast, secure, and ranking on Google.
READ ALSO: Bluehost Review: Is Bluehost The Best Web Host? 
Is WP Engine Right for You?
Now that you have read through our entire WP Engine review and looked at the performance scores, you might be wondering whether WP Engine is the right web host for you.
Well, after reviewing WP Engine services in detail, we are awarding them with the title "Best Managed WordPress Hosting".
WP Engine is an ideal choice if you're looking for a completely hassle-free web host for your WordPress site. For beginners, bloggers and businesses who want to stop wasting time on technical details and find a WordPress host that just works, WP Engine is perfect.
Developers and freelancers will find that WP Engine's advanced features will save them time on WordPress development for clients. And growing businesses will find plenty of room to scale up their hosting as their traffic increases.
So, are you ready to get started with WP Engine? Click here to select your WP Engine plan today.
WP Engine Coupon
Nwaeze David users get an exclusive 20% off discount on their first 3 months with our WP Engine coupon. All you have to do is click on the link/botton below to purchase. The discount will be applied automatically.
Frequently Asked Questions
Is WP Engine a shared hosting company?
No, WP Engine is not a shared hosting company and they do not offer services similar to shared hosting plans.
WP Engine is a managed WordPress hosting company offering WordPress specific hosting solutions.
What is managed WordPress hosting?
Managed WordPress hosting is like the concierge service for your WordPress website. WordPress is powerful content management system and website builder.
Managed hosting companies offer an optimized solution where they take care of updates, security, backups, caching, and more.
This leaves you with time that you can then spend on growing your business. Managed WordPress hosting is slightly more expensive than shared hosting plans.
Is WP Engine worth your money?
From experience, I can comfortably say Yes! WP Engine is worth your money.
Especially, if your business has outgrown the limitations of shared hosting services and shared VPS plans, then WP Engine is the best scalable upgrade option.
It allows you to easily manage updates and security and scale your website as your business grows.
Where are WP Engine Servers Located?
WP Engine uses Google Cloud servers and Amazon Web Servers as their data centers. This allows you to select data centers in North America, Europe, Asia/Pacific.
How WP Engine Compares to Other Hosts?
We are often asked about how WP Engine compares to other best WordPress hosting companies.
When it comes to managed WordPress hosting, WP Engine has a slight edge over competitors like Kinsta, Flywheel, and other options. Mainly due to better technology, user experience, and customer support.
WP Engine pricing is more expensive than shared hosting providers like Bluehost, HostGator, Hostinger, Pressable Hosting and even Nexcess.
Does WP Engine support WordPress multisite?
WP Engine supports WordPress multisite as a paid addon for Growth and Scale plans.
It does not support WordPress multisite for Startup plan.
It is also included in 'Custom' plans for agencies and enterprise clients.
Can I cancel WP Engine hosting and get a refund?
You can cancel your WP Engine hosting service at any time from your account dashboard / user portal.
They offer a full refund during the first 60-days of hosting for users who have pre-paid annual pricing.
Which WP Engine hosting plan is right for me?
If you are hosting a single website then you can sign up for their Startup plan.
However, if you have a busier website or need to manage multiple installations, then you can choose Growth or Scale plans.
WP Engine is offering a 20% discount to Nwaeze David users. Click here to start with WP Engine.