In this detailed and honest Bluehost Review, you will learn a lot about Bluehost and in the end, you will be able to decide if you are going to build your website with it.
Grab a cup of coffee and sit down as we go through this review together, okay!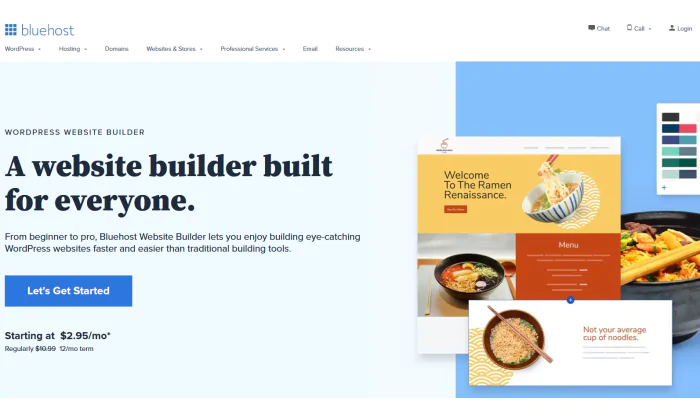 Bluehost Review Overview
Bluehost is one of the biggest web hosting companies in the world today and also an official WordPress-recommended hosting provider.
They offer a wide variety of hosting plans for beginners and for medium to large businesses with 24/7 customer support.
As you keep reading, you'll see the complete Bluehost review by our experts; this will help you to find out if Bluehost is the right choice for you.
In this comprehensive Bluehost review, we'll put their promises to test with a rigorous and thorough analysis using industry-standard benchmarking tools.
Following are the areas we'll look into:
Speed: How fast will your website load with Bluehost? We will test their speed and server response time to assess that.
Performance: How does Bluehost perform under traffic spikes? We'll test that by performing the stress test and see how well it performs under traffic.
Reliability: Will your website be available 24/7/365 without any downtime?
Customer Support: Can you count on Bluehost's customer support when you immediately need help with your website?
Features: Do they offer all the features that you'll need to build your website?
Pricing: Do they have the best pricing in the industry? Are there any Bluehost deals that can save you money?
This is our complete Bluehost review and we'll be doing an in-depth analysis of Bluehost's pros and cons. If you don't want to read the full review, here is a quick summary of the Bluehost review with our verdict right below it.
Bluehost Review Summary
Performance grade
A+
Average load time
1.48 ms
Average response time
1.26 ms
Free domain
Yes
Free SSL
Yes
1-click WordPress
Yes
Support
Phone / Live Chat / Knowledge base
Bluehost Review Summary
Bottom line: After our intense research on this Bluehost review, we found them to be reliable, fast, and affordable with friendly 24/7 customer support. 
For this same reason, we have chosen to recommend Bluehost as one of the best WordPress hosting companies.  
READ ALSO: Pressable Hosting Review [Features, Benefits, pros & cons] 
Bluehost Compared to the Best Web Hosting Services
If this is your first time creating a website, then Bluehost is a safe and affordable option because they offer shared hosting plans at an entry-level price.
As I mentioned before, you'll also get a free domain name when you sign up. This is a nice perk that sets it apart from other budget options, along with its customer support options and affordable additional hosting tiers.
Before we proceed with the review, let me make a little introduction of Bluehost to you so that you can know them better.
Introduction to Bluehost
Bluehost started in the year 1996 and has steadily grown to become one of the largest web-hosting companies in the world. It now powers over 2 million websites from all over the world.
They have a long-standing relationship with the WordPress community, and They are also an official WordPress.org recommended web host since 2006.
The company prides itself on its 24/7 customer support, great hosting infrastructure, and support for free open-source software like WordPress.
Bluehost Pros and Cons
All the best web hosting services have their pros and cons. Some you can live with, and some you cannot ignore.
So, here are the pros and cons of Bluehost that we learned.
Bluehost Pros
Pricing: Their hosting plans are well within the reach of most users, particularly those who are just starting out.
Reliability: They power a large number of websites with minimum downtime.
No hidden charges: There are no hidden fees when signing up for your account.
Free domain: You get a free domain name for the first year when you signup.
Free CDN + SSL: For each website, you get a free SSL certificate and free Cloudflare CDN to block malware and improve security.
Money Back Guarantee: They offer a 30-day money-back guarantee on all plans.
Bluehost Cons
As we mentioned earlier, there are always downsides to every hosting company.
The following are some disadvantages of choosing Bluehost as your host.
Higher domain renewal price Their free domain renewal price is higher than average.
Upselling Addons: They have an aggressive upsell process during signup. But you can easily uncheck SiteLock and all other add-ons if you don't need them.
Who is Bluehost Best For?
Bluehost is ideal for most beginners that are starting a website for the first or second time. Let's say you're a blogger getting started in your niche, Bluehost enables you to get an easy start without sweating all the technical details.
Along with their cool customer support features and easy-to-navigate cPanel, Bluehost ensures your learning curve is as small as possible and gets your site publicly available to the world with plenty of uptime.
On the other hand, if you're looking to start an ecommerce business with tons of products and need the best site speed and dedicated hosting, you might want to look at other options first.
READ ALSO: 41+ Blogging Tips To Make Your First $25k/mo < 90 Days 
Bluehost Performance Tests
One of the most important performance metrics that you should look for in a hosting company is speed. It not only affects user experience on your site, but it also affects your WordPress SEO rankings.
Studies have shown that a 1-second drop in website speed can decrease your conversion rate by 7%. A 3-second delay can cost you 50% of your traffic.
Now, let's see how fast your website will load on Bluehost.
Bluehost Speed Test Results
For you to have a faster website, you will need to choose a fast website hosting company, so pay close attention here. Keeping this success tip in mind, we created a test site to see how fast Bluehost really is.
Our test site was created using WordPress with the default Twenty Twenty-three theme. And we imported dummy content for theme development including images.
Then after that, we used Pingdom to test the website speed.
Here are our test results:
As you can see from the result above, the test site loads in less than two seconds. Considering the fact that our website wasn't using any caching plugins or speed optimization tools yet, this result is remarkable.
However, the speed test alone isn't enough because this test site didn't have a large amount of traffic to test the stress strength.
Bluehost Server Stree Test
To test how Bluehost servers would respond to increased traffic, we used a website stress testing tool called K6 (formerly LoadImpact) to send virtual users (VU) to our test site.
We used it to gradually build up to 100 visitors to see how the server would handle increased requests from multiple connections at once.
Here is a screenshot of our results: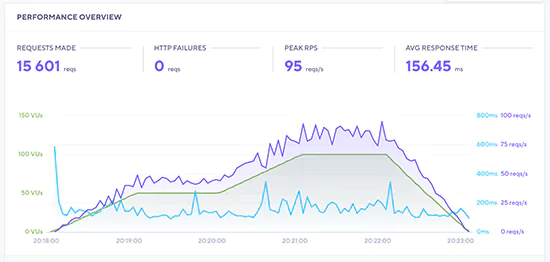 The green line on the screenshot above is the number of active virtual users on the site, and the blue line is the server load time. As you can see the server load remained stable throughout the test even at peak traffic.
This stress test indicates that if you are looking for a really fast website, then Bluehost can be a perfect fit for you.
Also, it is important to note that we didn't record any downtime during our testing. This is another thing to look out for.
Many hosting companies promise a 99.99% uptime guarantee. We set up an uptime monitoring alert for our test account. See the screenshot below for a detailed look at Bluehost server uptime.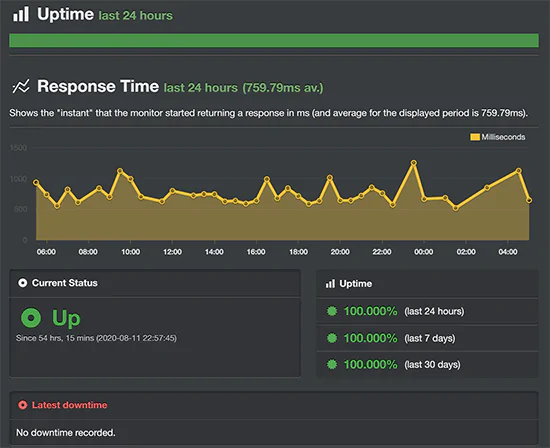 Bluehost Server Response Time
When testing a live website using tools like Pingdom, you are basically seeing how everything on your website loads. These test results will include images too, which take much longer to load than plain text.
For the sake of accuracy in our result of server response time, we used another tool called Bitcatcha to perform the same tests. This tool allows you to test server response time without loading any data.
As you can see from the result above, the Bluehost server in the US performed under a fraction of a second. In other locations, the response was a bit higher but still under less than a second.
If your target audience is in the United States, then this would benefit your website. However, if more of your users come from other parts of the world, then you can change your server location.
Bluehost Pricing and Features
Bluehost does offer several pricing tiers that are pretty clear-cut. But after going through them here, if you're still unsure which one can work best for you, reach out to them for a free consultation.
It's important to notice that the price points for each shared hosting tier I review here are only if you purchase a 36-month hosting plan upfront. If you decide to go with a 12 or 24-month plan, the monthly amounts change accordingly.
If you decide to go with a month-to-month plan, then your monthly hosting fee will be a lot more expensive than the usual discounted price. Regardless, Bluehost still stands as the most affordable and value-filled plan you can choose, especially as a beginner.
Now, let's take a look at how each shared hosting tier breaks down along with its value.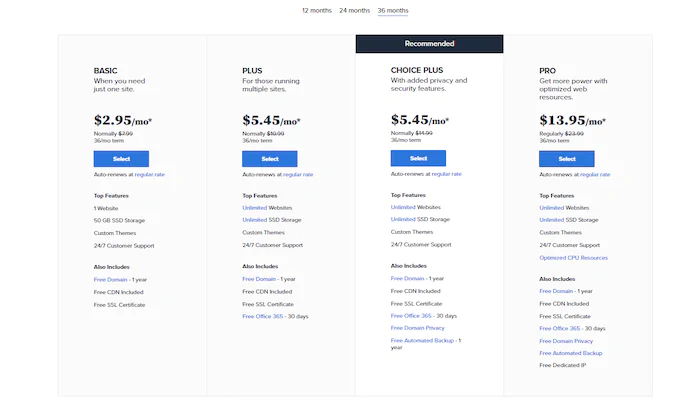 The Bluehost shared hosting plan is one of the easiest ways to get started building your site. You can start with the Basic plan for $2.95, which is good to create one site with 50 GB of space. That's generous when you consider they also include free CDN and a free SSL certificate.
You don't even have to know what a CDN or SSL certificate does–enable them with one click to get a faster, more secure site.
It doesn't stop there. Are you running more than one website? Then you'll want to try the Plus tier at $5.45 per month. It includes everything in the basic plan tier, plus the ability to host and manage an unlimited number of sites, and you'll get access to Microsoft 365 for 30 days.
Not bad right? It's the most convenient tier if you want to reliably start more than one site from scratch without too much overhead cost.
Their most recommended tier, and the one that gets you the most bang for your buck under the shared hosting plan, is the Choice Plus tier at $5.45 per month with added security features.
You get everything in the first and second tier, plus free domain privacy and free automated backup for a whole year.
Since internet security is a growing concern in the online world and the price for this tier is the same as the Plus option, this is the clear winner in my book as far as affordable shared hosting plans are concerned.
The added security feature is a big plus.
Finally, if you're looking for a bit more than that, consider the Pro tier, sitting at $13.95 a month. With this plan, you'll get additional CPU resources as well as a free dedicated IP.
As you can see for yourself, Bluehost goes out of its way to personalize each tier, so they're useful in covering what you need. I recommend you take some time to comprehensively look through each tier and its offerings to get the best deal according to your goals.
The VPS, or virtual private server hosting, is when hosting is within a shared server but acts as a dedicated virtual space for your site.
Bluehost VPS hosting has become very popular, as it is less expensive than dedicated hosting but gives you better security and potentially better performance than shared hosting.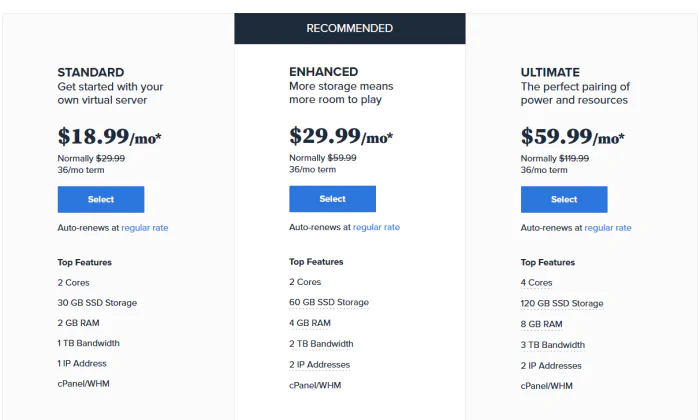 Guaranteed resources are the name of the game when it comes to Bluehost's VPS Hosting options. They stack up against competitors well, as they charge you only $18.99 for the standard VPN feature. This includes 2 GB of RAM and an additional 1 TB of bandwidth.
Now, looking through each Bluehost offering, it's very clear they've positioned themselves as a beginner-friendly web host, but they also burn the candle at both ends by offering affordable dedicated and VPS hosting. That's a double win as far as hosting you can rely on if you ask me.
The major benefits of dedicated hosting are security, privacy, and even more control all around. If you know you'll want the best of the best to host your site for scale and reliability, then a Bluehost dedicated hosting plan is the way to go.
Is your site growing rapidly? Do you see more traffic coming in day after day? At this point is where you'll want to look into dedicated hosting, yet another reliable Bluehost plan.
To illustrate the power of a dedicated hosting plan, they start you off at a whopping 500 GB of storage space, 4 GB of RAM, and 5 TB of bandwidth for only $79.99 a month.
This alone puts Bluehost as a premium contender in the market, even for their pricier hosting tiers.
Managed WordPress Hosting
The Bluehost managed WordPress hosting plan is an all-in-one managed platform that scales to any demand your website has.
All pricing plans for managed WordPress hosting through Bluehost include incredibly fast speeds, marketing tools, and multi-tiered security features.
The most dynamic hosting tier Bluehost offers is its managed WordPress option. You can either go with the Build, Grow, or Scale option. Each one offers a different hosting package to fit what you're looking for.
To make the best choice if you decide to go with a managed WordPress option, you'll want to base your decision on the amount of traffic they're each appropriate for.
Each plan comes equipped with plenty of helpful features built to help your site grow. This means storage space starting at 20 GBs, access to over 200 global servers, scheduled backups, staging environments, and free SSL certification, just to name a few.
What differentiates each managed tier is ultimately their traffic capacity. Here's a quick overview:
Build – $9.95 a month, best for 50,000 monthly visitors
Grow – $14.95 a month, best for 150,000 monthly visitors
Scale – $27.95 a month, best for 500,000 monthly visitors
Breaking it down by traffic makes it easy to choose a managed WordPress hosting plan that'll give you peace of mind and plenty of site uptime.
READ ALSO: How to Start a Blog & Make Money Online ($250k Per Month) 
In Conclusion: Is Bluehost the Right Choice for You?
Bluehost is often ranked the #1 web hosting provider by many websites due to the extensive features they offer. And yes, they do offer a wide range of hosting options with tons of features that help you easily build your website.
All their hosting plans include expert 24/7 customer support from knowledgeable staff. Most importantly, they offer affordable starter plans that fit any budget requirement.
So, if you are just starting out new, you cannot go wrong signing up for a Bluehost shared hosting plan. It's easy on your pocket and comes with all the right tools. As your site grows you can easily upgrade your hosting plan accordingly.
Ready to start your website with Bluehost? Click here or the button below to select your Bluehost plan. 
Frequently Asked Questions
Can I make an online store using WooCommerce on Bluehost?
Yes, you can. In fact, Bluehost is one of the best WooCommerce hosting service providers. Their starter plan is perfect to start an online store.
However, keep in mind that you'll need to upgrade as your store starts getting more traffic.
Hopefully, by that time you'll be making enough money to justify the upgrade costs.
Is Bluehost good for beginners?
Yes. Bluehost is the most beginner-friendly WordPress hosting company on the market.
They automatically install WordPress for you when you sign up. They also have an easy-to-use control panel that allows you to manage your hosting account by yourself.
There is plenty of help available with detailed guides, video tutorials, and articles.
You also have 24/7 access to their expert support via live chat and phone.
Can Bluehost handle high traffic?
Their shared hosting plans are suitable for starter websites and small businesses.
Remember, in our stress test, their shared hosting plan was able to handle 100 virtual users without any slowdown.
These plans can handle reasonable and sudden traffic spikes. However, they are still quite limited in server resources.
If you are expecting high traffic then you'll need to upgrade your hosting plan.
Why use Bluehost for WordPress?
Bluehost is one of the largest hosting companies in the world and an officially recommended WordPress hosting provider.
They have been supporting the WordPress community for a very long time and know WordPress very well.
Their platform is highly optimized for WordPress websites and engineered to run WordPress at peak performance.
They also have WordPress engineers on their team so you know your website is in safe hands.
Do I need a credit card to sign up with Bluehost?
Bluehost accepts credit cards but you can choose to show more payment options during checkout and select PayPal as your payment method if you wish.
Is Bluehost better than GoDaddy?
Yes, Bluehost is better than GoDaddy because we believe Bluehost support is better.
Their My Sites dashboard and overall onboarding experience are a lot more beginner friendly. Not to mention, Bluehost offers better pricing for small businesses.
How does Bluehost compare with SiteGround and HostGator?
When comparing Bluehost with SiteGround and HostGator, there are several pros and cons you should be aware of.
Bluehost offers more value for the price when compared to SiteGround. Their plans start at $2.75 per month and include a free domain, whereas SiteGround plans start at $4.99 and do not include any free domain.
On the other hand, the SiteGround platform comes with better speed and security features.
In terms of Bluehost vs HostGator, they're pretty similar when it comes to hosting CPU resources, functionality, site migration tools, pricing, and more.
Bluehost is also more comparable with shared hosting providers like Inmotion hosting or Dreamhost.
We find Bluehost's user experience to be slightly better as they've invested heavily in their WordPress website builder platform.
Where are Bluehost servers located?
Bluehost operates its own in-house data center located in Utah, US. It is a massive 50,000 square feet facility that serves as its primary data center.
What Bluehost plan should I get?
If you are just starting out a brand new website, blog, or online store, then we recommend starting with their basic plan.
It is good enough for a starter website and you can always upgrade later.
Bluehost Alternatives
Here's a list of Bluehost Alternatives that you can explore today and see what they offer. Most of them are also reviewed on this blog, so if you stick around for a while, you'll learn more about them as well.
Here's the Bluehost Alternatives List:
Bluehost Coupon & Discount
Nwaeze David users get an exclusive 60% off discount and a free domain with our Bluehost coupon code. 
To get the Bluehost discount, all you have to do is click here or the button below to purchase. The discount will be applied automatically.
Remember, you must use the link above or the button below to get the exclusive discount. If you visit the Bluehost website directly or use another link, then you won't get the special offer.
Nwaeze David users get an exclusive 69% off discount and free Domain!