This ResellerClub Review will cover a lot of things to make sure you have all the necessary information before buying a ResellerClub plan for your business.
Running a successful online business starts with a reliable hosting company. Although ResellerClub does not just offer hosting services, they also give you a chance to start your own hosting business using their servers.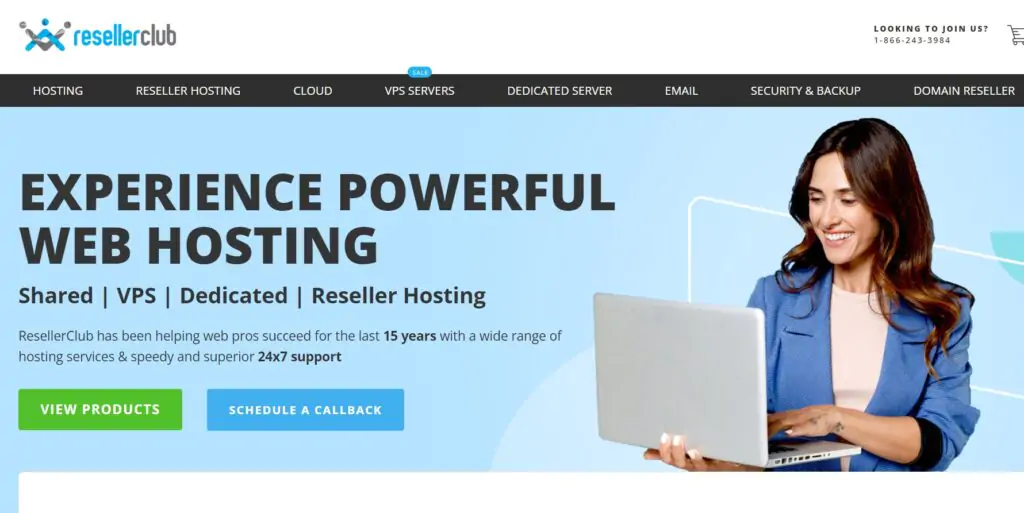 We'll look into all the services offered by this company in this article, so, take a seat and read along…
To begin, let me introduce you to ResellerClub.
READ ALSO: Bluehost Review: Is Bluehost The Best Web Host?
Introduction to ResellerClub
Founded in 1998 by Bhavin Turakhia and Divyank Turakhia; ResellerClub is now owned by the Endurance International Group (EIG). The same company also owns massive hosting companies like Bluehost and HostGator.
ResellerClub is a reseller of other companies' hosting services, and it's based in India, with more than 200,000+ customers in 150 countries.
It's safe to assume that ResellerClub knows a bit more about hosting, but the real questions are:
Does ResellerClub offer the right package for your needs?
Why choose a reseller over the original source?
How is ResellerClub customer service?
Are the prices a good value for your money?
Will your website load fast enough?
By the end of this review, you'll have answers to your questions, and will also know whether this is the right host for you.
ResellerClub Features
ResellerClub offers almost everything you could ever need for your website, from SSL certificates and domain names to SiteLock security features and an integrated caching and content delivery network (CDN).
They do offer a lot of services and we can't cover all of them here, but I'll mention the key features and a brief overview of how each feature works. If that's okay with you, let's get started then…
Multiple Hosting Plan Options
One of the first things you'll notice about ResellerClub is its number of plans. There really is something for everybody, whether you're a regular website owner or a reseller. Choose from Windows, Linux, Magento, WordPress, Joomla, or even Bluehost and HostGator plans.
However, the sub-companies, HostGator and Bluehost do have hosting plans that are actually cheaper, and their money-back guarantee is longer if you go directly to the source. So, this makes me wonder why you'd choose to purchase these two plans via ResellerClub.
Reseller Plans
This particular plan is the primary business model that ResellerClub is known for; just as its name implies. There are Linux and Windows hosting packages that come with a fully brandable control panel, and ResellerClub is available to help you with any technical issues.
This plan is perfect if you want to host your own clients.
Developer-Friendly Features
ResellerClub offers SSH access in even its shared hosting plans, while most other companies make you upgrade to a VPS plan. It also offers support for PHP up to version 7.1, Python (only older version 2.6.6), Ruby on Rails, and Perl.
Website Builders
ResellerClub sells two website-building tools: one from Weebly and one branded by ResellerClub. The website building package comes with responsive templates, a drag-and-drop editor, e-commerce features, and website hosting included in the bundle price.
Backups
ResellerClub has a detailed backup policy, which is refreshing. Included in the standard hosting plans, the company will back up your data and you can request a restore of up to seven days.
However, as is always the case with hosts, be sure to read the small print, which states backups are "periodic". In the event that the standard backup provision isn't comprehensive enough for you, you can purchase an additional backup plan as an add-on option.
Theme Store
ResellerClub brands itself as a one-stop shop for all things related to website hosting. As well as hosting and domain names, it also has a theme store for more than 150 premium website templates.
There does appear to be a small markup fee on each template, but you're paying for the convenience.
Support
Customer support is offered 24/7 via live chat and ticket. To get support as an existing customer, you need to log into your dashboard and select which topic you'd like to discuss. You're then directed to either live chat or ticket support.
There's also a decent knowledge base, and you can call the company on a U.K., U.S., or Indian local number if you prefer to get support over the phone.
READ ALSO: WP Engine Review: Features, Pricing, Pros & Cons
ResellerClub Pricing Plans
ResellerClub offers so many plan options, which means there's a price point for everyone. Payment can be made by PayPal, credit card, or WebMoney Transfer, and there's a 30-day money-back guarantee on most of the plans.
ResellerClub Shared Hosting
The Linux-shared hosting plan gives you unlimited bandwidth, a 30-day money-back guarantee, and protection against viruses.
Web designers and developers that love using WordPress, Drupal, or Magento, are in luck because these CMS are all supported. The three plans are affordable, and there are a lot of unlimited features.
ResellerClub Shared Hosting Plan
ResellerClub VPS Hosting
With VPS's dedicated server resources and easy upgrades, you can support your website's growing traffic, eliminating performance lags and ensuring lightning-fast speed.
| | | | | | | |
| --- | --- | --- | --- | --- | --- | --- |
| Hosting Plan | Storage | Bandwidth | CPU | RAM | Price | |
| Standard | 20 GB SSD Disc Space | 1 TB | 2 CPU Cores | 2 GB | $3.99 | More Details > |
| Business | 40 GB SSD Disc Space | 1 TB | 2 CPU Cores | 4 GB | $7.99 | More Details > |
| Pro | 80 GB SSD Disc Space | 2 TB | 3 CPU Cores | 6 GB | $22.39 | More Details > |
| Elite | 120 GB SSD Disc Space | 2 TB | 4 CPU Cores | 8 GB | $35.49 | More Details > |
ResellerClub VPS Hosting Plan
ResellerClub Dedicated Server
When you need a dedicated server, dedicated hosting is available starting at $62.99 per month. Bandwidth comes in terabytes, and you get to use an Intel E3-1220LV2 server.
This option works well for clients who need better security or the power to run larger operations on the web.
ResellerClub Dedicated Server Plan
ResellerClub Cloud Hosting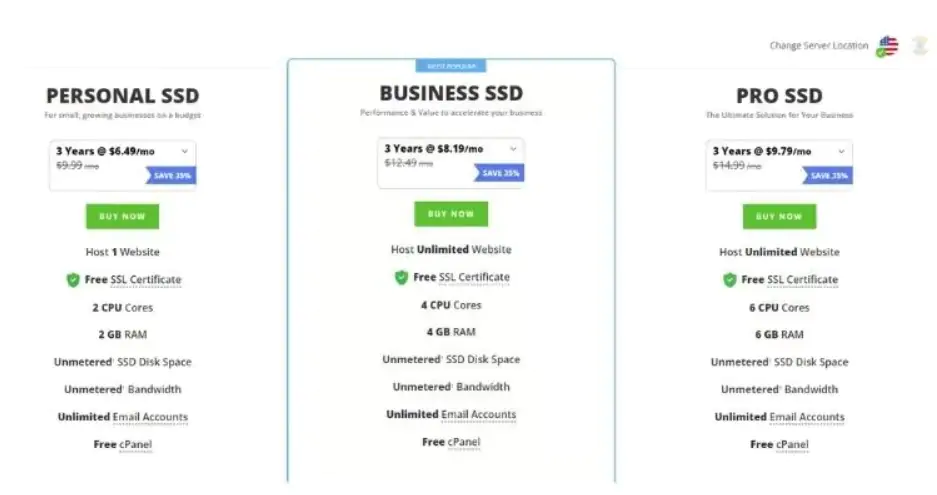 If you need even more space and power, cloud hosting may be what you need. You can host unlimited websites in the Personal SSD, Business SSD, and Pro SSD.
| | | | | | | |
| --- | --- | --- | --- | --- | --- | --- |
| Hosting Plan | Storage | Bandwidth | CPU | RAM | Price | |
| Personal SSD | Unmetered | Unmetered | 2 CPU Cores | 2 GB | $6.49 | More Details > |
| Business SSD | Unmetered | Unmetered | 4 CPU Cores | 4 GB | $8.19 | More Details > |
| Pro SSD | Unmetered | Unmetered | 6 CPU Cores | 6 GB | $9.79 | More Details > |
ResellerClub Cloud Hosting Plan
ResellerClub Reseller Hosting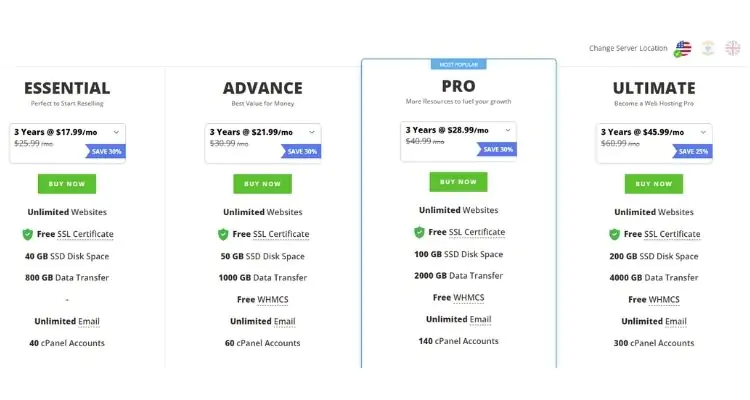 The reseller hosting gives you what you need to run multiple websites from a single account. Even the $17.99 per month plan gives you unlimited websites. However, you have 40GB of disk space to work with.
ResellerClub Reseller Hosting Plan
ResellerClub WordPress Hosting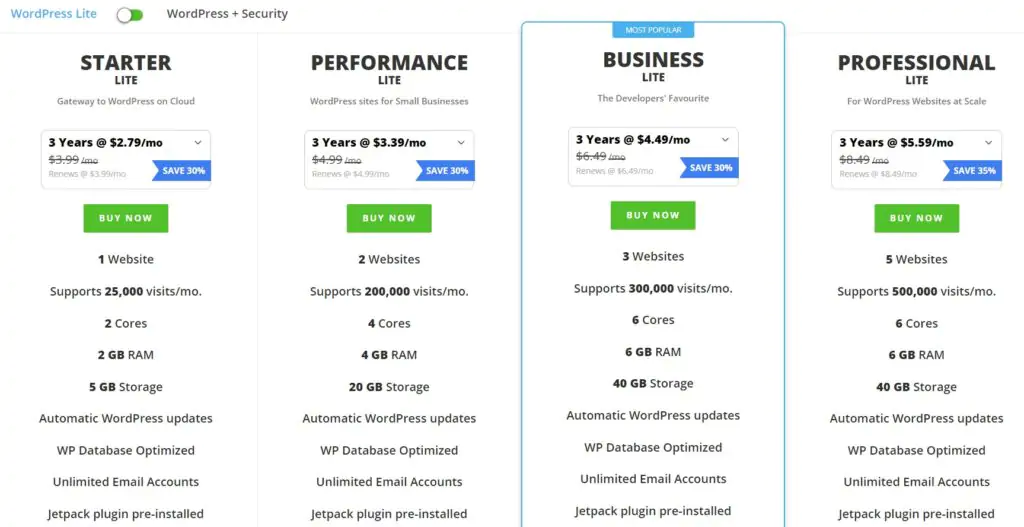 WordPress is an open-source Content Management System (CMS) / blogging platform that allows the creation of a website in PHP without the need to code.
WordPress Hosting is a web hosting product optimized for WordPress, usually comes with WordPress pre-installed, and has a custom panel to manage the order.
The ResellerClub WordPress Hosting plans are hosted on the Cloud and are designed to deliver speed, optimized security, backups, scalability, and automatic updates.
ResellerClub WordPress Hosting Plan
ResellerClub Pros and Cons
| | |
| --- | --- |
| Pros | Cons |
| + You Can Choose Your Server Location | – Poor support response time |
| + 30-day money-back guarantee | – High Domain Price |
| + up to 99.9% Hosting Uptime | – Poor reviews from customers |
| + Lots of available hosting options | – Resources usage limitations |
ResellerClub Pros and Cons
READ ALSO: Hostinger Review as an Expert
ResellerClub Alternatives
Here's a list of all the ResellerClub Alternatives you can choose from:
Frequently Asked Questions
Does ResellerClub have a money-back guarantee?
ResellerClub offers a 30-day money-back guarantee on its shared, VPS, and reseller hosting plans for first-time accounts.
It does not offer refunds on dedicated server hosting, renewals, second accounts, or if you've had an account with ResellerClub in the past and are signing up again.
Is ResellerClub easy to use?
Setting up an account, linking a domain, and installing WordPress is very simple with ResellerClub.
Adding on themes and features is also convenient and easy via cPanel and Softaculous.
Is ResellerClub good?
From domain names and shared hosting to dedicated servers and site builders, ResellerClub has it all including a strong reseller hosting platform that serves millions.
READ ALSO: Cloudways Review: Web Hosting Features, Pricing, Pros & Cons
ResellerClub Review Summary
I believe this ResellerClub Review has revealed a lot to you about this hosting company. Yes! ResellerClub is definitely a one-stop shop, offering almost everything you need for website hosting.
However, from what I can see, it chooses quantity over quality, and you're likely to find older versions of software or non-existent uptime service-level agreements (SLAs).
The customer service is decent and the control panel is easy to use. So, it's up to you now to make a choice, do you want to give it a try?