We have reviewed a lot of web hosting companies on this website and you should know by now that if you want to start an online business, you'll need a hosting company for your website, so to add to the list is this GlowHost Review.
In this GlowHost Review, I'll be brief and straight to the point with all the necessary details you'll need to make your choice of hosting to use for your online business.
So, with that being said, let's get started!
READ ALSO: Bluehost Review: Is Bluehost The Best Web Host?
Introduction to GlowHost
Founded in 2002 by Matt Lundstrom, GlowHost has been growing gradually as one of the most flexible hosting companies in America.
As a US-based hosting provider, GlowHost runs its data centers worldwide. These are countries like Canada, the UK, the Netherlands, Japan, Australia, Brazil, Hong Kong, and the USA.
The company offers tailored, top-quality hosting solutions for business and individual websites. According to the user survey we carried out, their customer support is top-notch.
So, yeah!
This hosting provider is worth looking into and by the end of this review, you'll definitely want to try them out for yourself.
GlowHost Features
GlowHost has so many features but the major ones I'll be looking into include all sorts of hosting solutions, domain registration, and a website builder.
When it comes to hosting plans, you can easily host your website using the following options by GlowHost:
shared hosting
hosting for WordPress, Joomla, etc.
semi-dedicated hosting
managed dedicated hosting
virtual dedicated hosting
reseller hosting
Elastic Sites hosting (same as managed VPS hosting).
GlowHost does offer a complex hosting solution for all the popular CMS platforms such as WordPress, Joomla, Drupal, etc.
In the case of each platform, you can opt for a shared hosting plan, a Cloud VDS solution, or a dedicated package. Surely, WordPress options are the most advanced here.
As a user, you should expect a full set of tools, from theme management to SEO. However, the key advantage of GlowHost is that it is very simple to integrate with any of the CMS supported.
Private Domain Registration: As a GlowHost user, you'll have the ability to register a private domain. It will let you mask your identity so that no fraudsters or spammers can access it.
Data Centers
GlowHost servers are ensured by eighteen data centers placed all across the globe. These data center locations include the following:
Chicago
Miami
Los Angeles
Dallas, Salt Lake City
Montreal
Toronto
Mexico
London
Amsterdam
Tokyo
Hong Kong
Sydney, and many more.
Plus over 77+ Global CDN points of presence. GlowHost is ready to work out the shortest route between your website and your hosting server.
Image ProDesign Editor
The tool has over 1,500 free designs and will let you create and modify striking images that will embody the concept of your brand or product.
Your targeted destinations may include social networks, blogs, ad banners, emails, and more. The app allows the creation of professionally-looking images in a couple of minutes.
Trustmarks and Trust Seals
As a GlowHost user, you'll be supplied with various Trustmarks and Trust seals for your website. This particular tool alone can boost your customer's trust level and help you to gain the confidence of your customers and partners.
Security
GlowHost also offers a set of anti-hacker and after-hack restore tools. These security features are products introduced by Sucuri. This renowned company has been supplying the market with top-quality software against malware and hacker attacks.
Website Apps
As a GlowHost user, you'll be getting free access to 300+ pre-installed applications. The site has a built-in Softaculous App Installer to simplify the process of any app setup. Another benefit of this setup software is that it contains PHP scripts and JavaScript libraries. This might interest WordPress and Joomla users the most.
GlowHost can also connect your website to the most popular PHP shopping carts. These are, at least, Magento, PrestaShop, and OpenCart. Each of them is installed with one click. The provider supports a set of customization tools for these apps, so you can easily work out your unique shopping cart.
No matter which hosting package you prefer, expect to receive GlowHost support for vBulletin 5 Connect. This means you get a free vBulletin license as well as a pro installer for vBulletin. This app will give you piles of indispensable tools for creating original forums on your website.
READ ALSO: Cloudways Review: Web Hosting Features, Pricing, Pros & Cons
GlowHost Pricing Plans
GlowHost does not have a free plan available, but they do offer a number of freebies with their hosting packages as well as a 91-day money-back guarantee.
These freebies include:
Domain Registration
Private SSL certificate
McAfee Secure with Site Seal
SohoLaunch website builder
SEO tools
1500+ professional design templates
$75 of Google AdWords credit
Support is available via live chat, support tickets, email, or their pre-sales forum.
GlowHost Web Hosting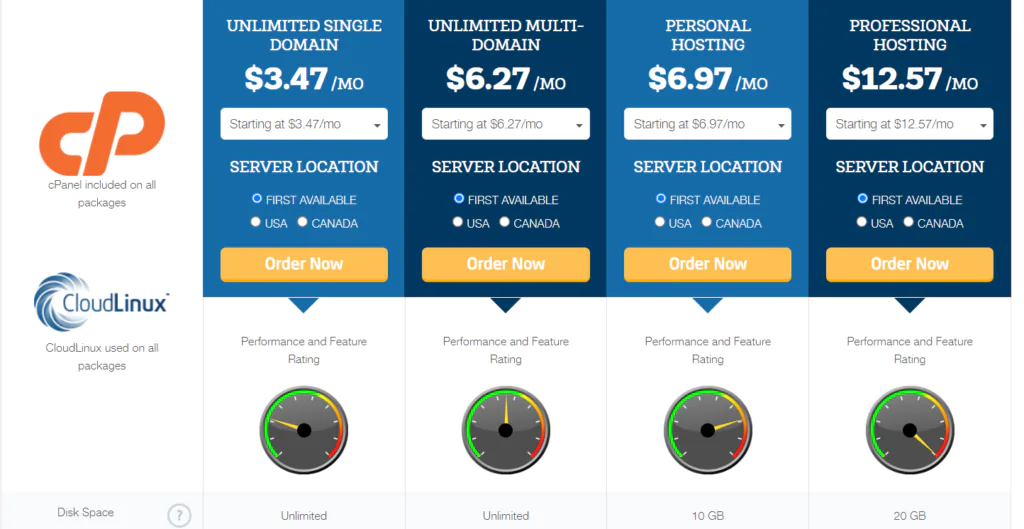 | Hosting Plan | Storage | Bandwith | Number of Sites | Price | |
| --- | --- | --- | --- | --- | --- |
| Unlimited Single Domain | Unlimited | Unlimited | 1 | $6.27 | More Details > |
| Unlimited Multi-Domain | Unlimited | Unlimited | Unlimited | $7.67 | More Details > |
| Personal Hosting | 10 GB | 100 GB | Unlimited | $8.37 | More Details > |
| Professional Hosting | 20 | 250 GB | Unlimited | $13.79 | More Details > |
GlowHost Web Hosting Plan
GlowHost Dedicated Server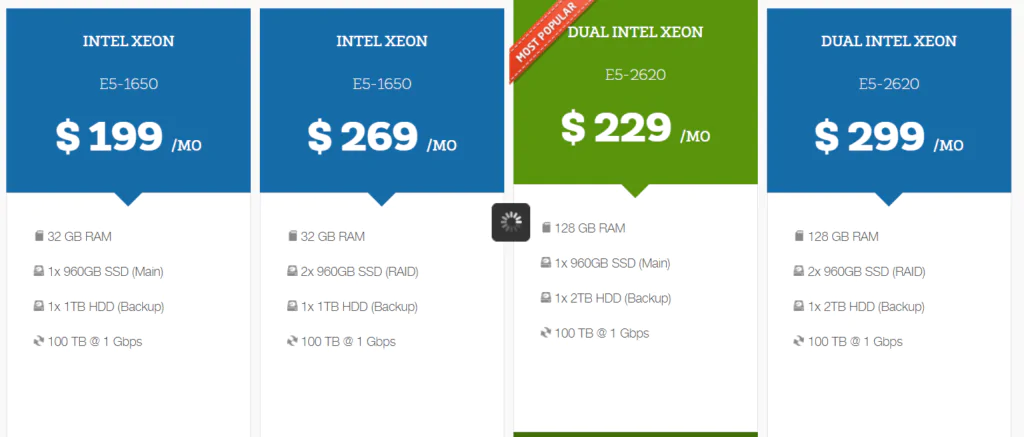 | Hosting Plan | Storage | Bandwidth | CPU | RAM | Price | |
| --- | --- | --- | --- | --- | --- | --- |
| Intel Xeon E5-1650 | 1x480GB SSD (Main) | 100 TB | Intel Xeon E5-1650 | 32 GB | $129 | More Details > |
| Intel Xeon E5-1650 | 2x480GB SSD (RAID) | 100 TB | Intel Xeon E5-1650 | 32 GB | $199 | More Details > |
| Dual Intel Xeon E5-2620 | 1x960GB SSD (Main) | 100 TB | Dual Intel Xeon E5-2620 | 128 GB | $229 | More Details > |
| Dual Intel Xeon E5-2620 | 2x960GB SSD (RAID) | 100 TB | Dual Intel Xeon E5-2620 | 128 GB | $299 | More Details > |
GlowHost Dedicated Server Plan
GlowHost Cloud Hosting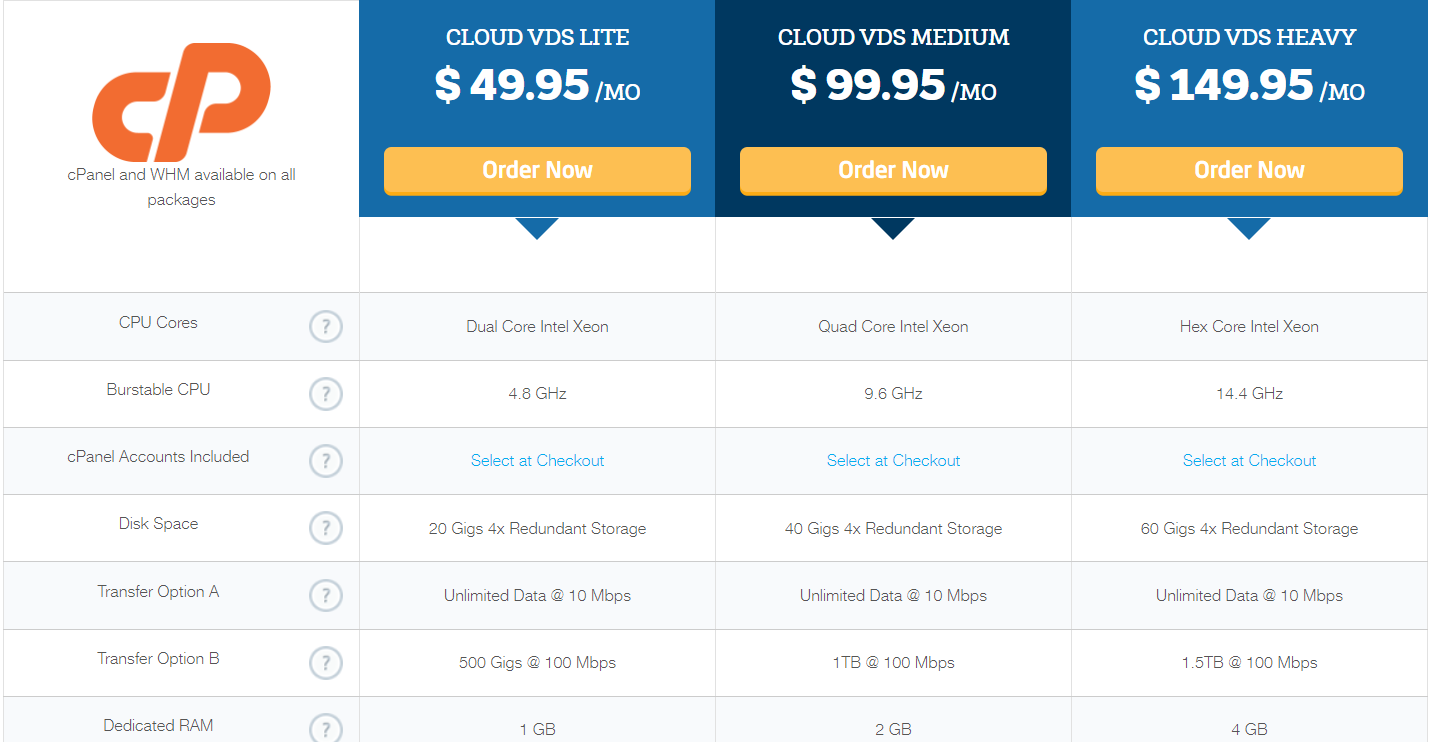 | Hosting Plan | Storage | Bandwidth | CPU | RAM | Price | |
| --- | --- | --- | --- | --- | --- | --- |
| Cloud DVS lite | 15 GB | unlmited | 2 x 2.4GHz | 1 GB | $49.95 | More Details > |
| Cloud DVS Medium | 30 GB | unlimited | 4 x 2.4GHz | 2 GB | $99.95 | More Details > |
| Cloud DVS Heavy | 60 GB | unlimited | 6 x 2.4GHz | 4 GB | $150 | More Details > |
GlowHost Cloud Hosting Plan
GlowHost Reseller Hosting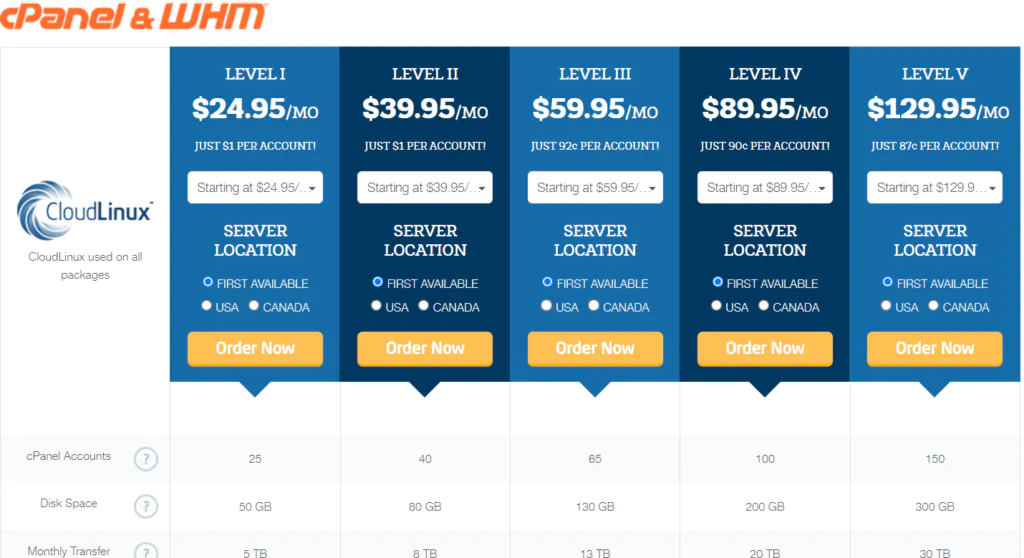 GlowHost Reseller Hosting Plan
Note: A free domain is included in every hosting plan you choose. 
GlowHost Pros and Cons
| | |
| --- | --- |
| Pros | Cons |
| + 99.99% uptime guaranteed | – Shared hosting servers located only in the U.S. |
| + All hosting types are supported | – Plans are not that cheap |
| + Active Customer Support | |
| + Scalable plans (preset & managed) | |
| + Site builder with free templates | |
| + Many freebies with each hosting package | |
| + 91-day money-back guarantee | |
GlowHost Pros and Cons
GlowHost Alternatives
Here's a list of GlowHost Alternatives you can check out for yourself:
Frequently Asked Questions
How good is GlowHost's customer support?
Their customer service is on point. Although GlowHost is not yet ranked as one of the top web hosts, I believe they are getting there.
Which GlowHost plan should I get?
My recommendation is to start with a cheaper plan. You can always upgrade later on. GlowHost can help you with the migration to a more expensive plan.
How much does GlowHost cost?
GlowHost offers plans from $5 to $18. It all depends on which type of hosting plan you choose.
READ ALSO: Pressable Hosting Review [Features, Benefits, pros & cons]
GlowHost Review Summary
As you have seen in this GlowHost Review, they do have so much to offer as a web hosting provider. Although they do not have the lowest prices, they set themselves apart from the competition with their stellar support and high-quality hosting services.
However, GlowHost does merit the attention of business site owners, bloggers, and individual entrepreneurs. No matter which website project is on your mind, GlowHost can provide it with a suitable and budget-friendly solution.
The company has exceptional guarantees like 99.99% uptime and a 91-day refund, with exceptional customer Support. Yes, I do recommend GlowHost.