The search for a reliable hosting company for your online business is very important and Nwaeze David is always available to help you make that decision a smooth one. As a result of that, we are making this Nexcess Review to help you understand if Nexcess hosting is the right fit for your business.
This Nexcess Review will be very thorough and honest; as we'll discuss the history, features, pricing, performance, pros, and cons.
With all the detailed research we provide you, you'll be able to make a decision faster than normal. So, with that being said, let's get started!
Nexcess Review Overview
While the price is not the lowest, you do get fully managed services, great performance, and many tools for a simplistic hosting experience.
So, before you get into the full details of our Nexcess Review, here's a summary of what we discovered about this hosting company.
| | | |
| --- | --- | --- |
| Feature | 4.4★★★★☆ | Premium managed hosting solution |
| Pricing | ★★★☆☆ | Nexcess is slightly more premium, with its cheapest managed WordPress plan starting at $13.30/mo. |
| Ease of use | ★★★★☆ | The provider's native user interface/ control panel is straightforward, functional, and very easy to use. |
| Performance | ★★★★☆ | Nexcess is very reliable with a 99.99% uptime, extremely fast, and has no trouble handling intense traffic. |
| Security | ★★★★☆ | Nexcess includes plenty of basic and premium features like an SSL, automated backups, iThemes Security Pro plugin, and malware scans. |
| Support | ★★★★☆ | Nexcess delivers swift and knowledgeable customer support 24/7 via live chat. If you reside in the Americas, the UK, or Australia, you can also contact it by phone. |
Nexcess Review Summary
READ ALSO: Pressable Hosting Review [Features, Benefits, pros & cons]
Introduction to Nexcess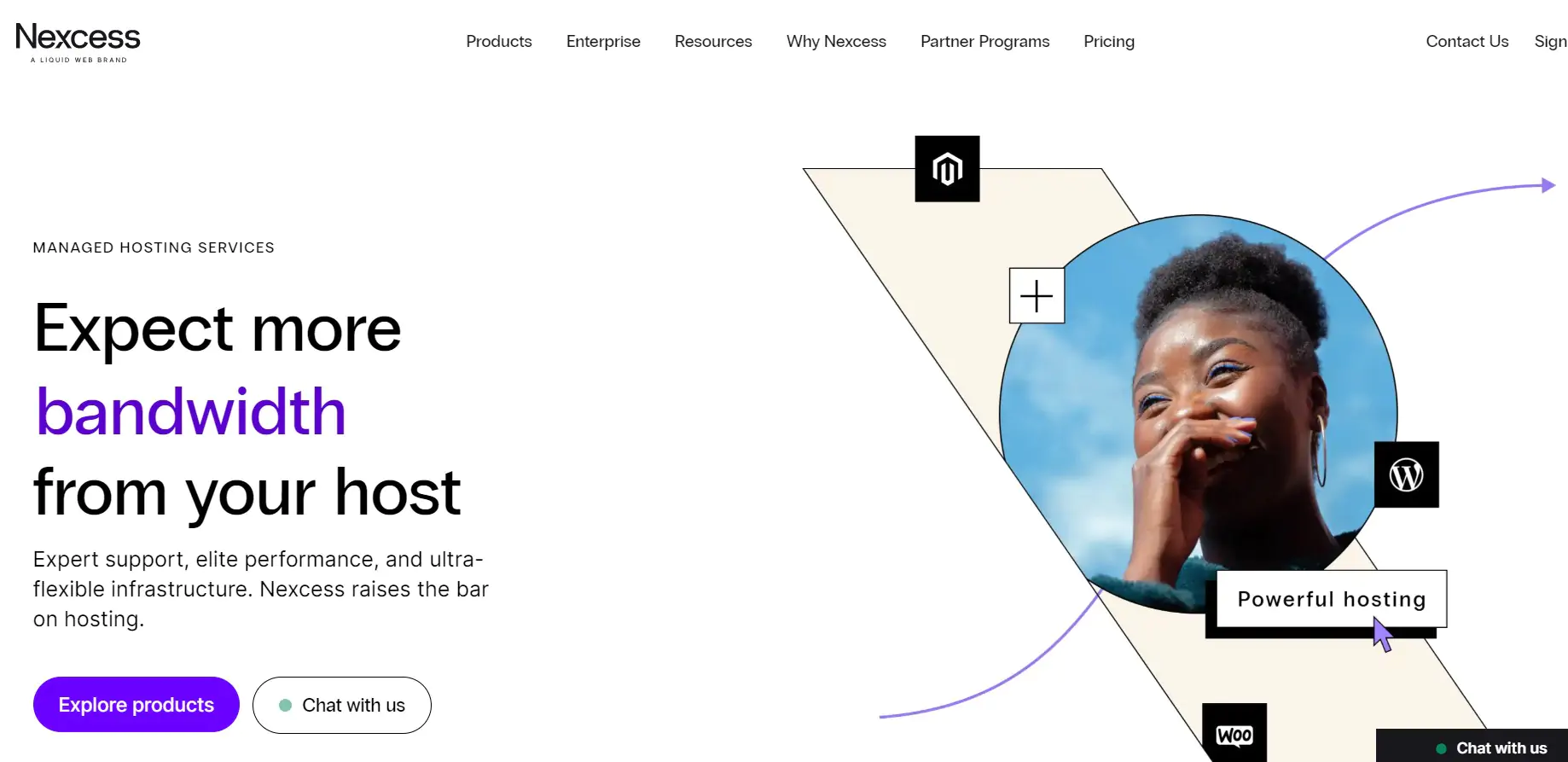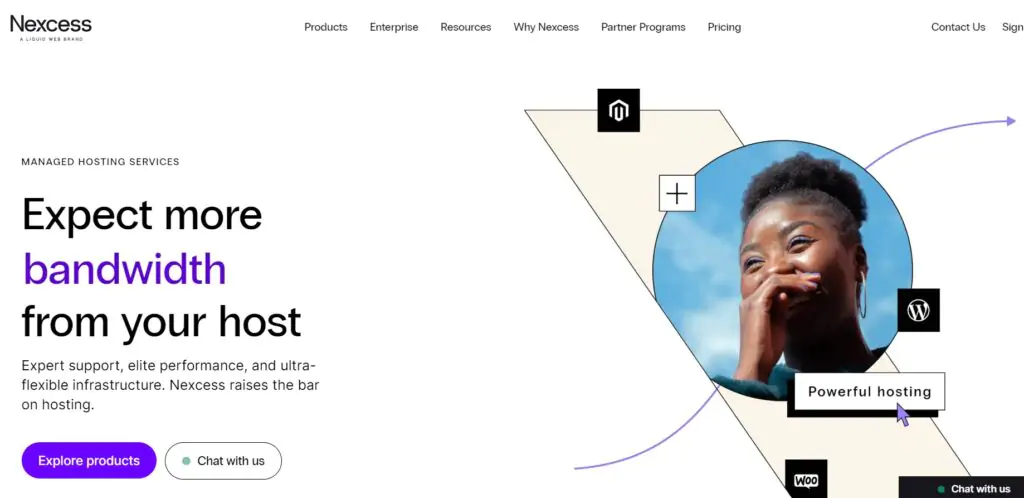 Founded in the year 2000 by Chris Wells; Nexcess has been a web hosting company that specializes in providing managed hosting services for eCommerce stores, content management systems (CMS), and Magento applications.
Since its inception, Nexcess.net has grown to become one of the leading providers of managed hosting services, serving clients in over 130 countries around the world.
In 2019, both Liquid Web and Nexcess joined forces together as a big family but, the companies do operate largely separately.
For all existing customers of Nexcess, there are no changes in products or pricing, they will not be migrated and will continue to contact the Nexcess team they know today for service and support.
The founder and CEO of Nexcess, Chris Wells, remains with the team and assumes a senior technology leadership role.
You should read Liquid Web Review: Features, Pricing, Pros & Cons
Nexcess Features & Benefits
Nexcess has a lot of features and we'll be sharing an overview of these features. If you want to see the entire website's features, then you'll have to visit Nexcess Website for that.
Nexcess Performance features:
Built-in server-level caching.
Integrated content delivery network (CDN).
Built-in image compression.
Auto-scaling to handle high-traffic situations.
Nexcess Security and maintenance features:
WordPress core and plugin updates, including visual comparison testing to automatically catch update problems before they happen on your live site.
Automatic daily backups and on-demand backups.
Free iThemes Security Pro access.
Free SSL certificates.
One-click staging sites.
Malware monitoring.
Other Nexcess features:
"Stencils" let you quickly create sites with pre-configured settings/themes/plugins.
Email hosting (but this is not available on the cheapest Spark plan).
Nexcess standout features
Free migration services
The free migration includes existing websites
Average load time
Approximately 475 ms (milliseconds)
Average response
Approximately 275 ms
Free email
Every hosting plan includes email with unlimited storage
SSL
Free SSL certificate included with every plan
Support
24/7 support via phone, email, or live chat
Nexcess Features
Nexcess Performance Test Results
The speed of your website is incredibly important because it will affect your visitors' experiences, your SEO, your conversion rates, and more.
Another thing you need to know is that your website hosting plays a key role in your site's page load times, especially in high-traffic situations, so it's important to pick a host that offers excellent performance.
The Nexcess provider is both very reliable and fast. Plus, its servers seamlessly handled intense traffic without flinching.
Now, Let's examine the Nexcess performance results more closely.
Nexcess Uptime and Response Time Test
The first test is to check the host's reliability and server response time; and for that, we monitored Nexcess for over 2 months.
At this time, the provider had 5 outages or 9 minutes of downtime. This together has resulted in a near-perfect uptime of 99.99%.
While the provider does issue an official 100% uptime guarantee, this does not cover unforeseen circumstances or mandatory server maintenance. So 99.99% uptime is a very good result.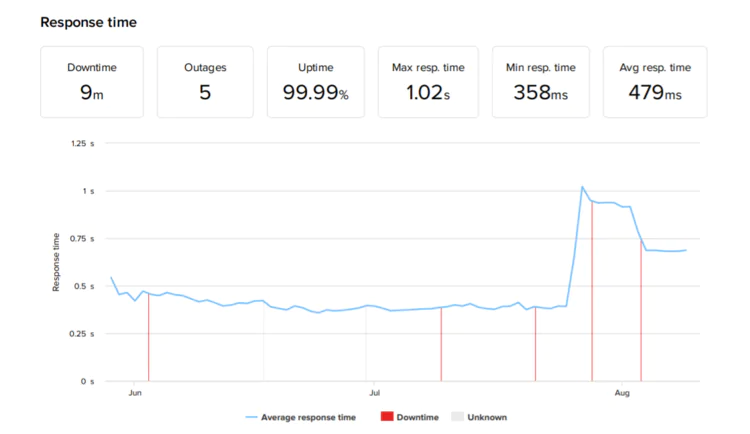 Additionally, Nexcess did quite well in its average response time, too. The response times initially lingered around the very speedy 300ms mark but climbed up to over 1s during one of the outages before improving.
Nevertheless, it averaged out at 479ms, which is a very good result that falls right under the market's average of 600ms.
Overall, Nexcess' reliability is undeniable with its near-perfect uptime and a very speedy response time.
Nexcess Website Speed Test
Next up is the website speed test of Nexcess hosting, we did test the provider's load times for both an empty site and a fully-built one.
Before we get to the nitty-gritty, there are 2 important metrics to know:
Largest Contentful Paint (LCP) – this is the time it takes to load the largest chunk of content on the page. Google takes this measure into account when ranking sites on its search result page. For best results, keep the time under 2.5 seconds.
Fully loaded time – the time it takes to fully load all elements on the site. For the best user experience and minimal bounce rates, aim for a time under 3 seconds.
With the above in mind, I tested an empty WordPress site from 3 different locations first: San Antonio (USA), London (United Kingdom), and Mumbai (India).
Since the site is hosted in the US, it's no surprise the LCP here is the lowest – just 705ms. While other locations did have slightly increased LCPs, neither has surpassed the undesired mark of 2.5s.
Now, if you cater to international audiences, you might want to reduce the latency by opting for a server location that is closest to your audience. For that, Nexcess has 8 data centers in the US, Europe, and Australia.
Nexcess website speed test performance gets two thumbs up from me because it beats so many other hosting providers out there. It loads quickly, and the provider has data centers around the world to cater to your needs.
Nexcess Stress Test
The last test here on this Nexcess review is to see how well the provider can handle traffic surges on the site.
The ideal result here would be for the blue line (speed) to remain as stable and as flat as possible even while the gray line (number of visitors) goes up. The red line (failures) should also be non-existent.
To start the ball rolling, we sent 50 virtual users to my site. Now, that doesn't sound like much but 50VUs every minute each day would equal around 50,000 monthly visitors.
It's a massive load on the server that could significantly slow it down or overwhelm it completely. But, Nexcess handled the full 50VUs like a champ.
Its speed (blue line) remained constant and extremely stable. Plus, there were no signs of failures (red line). This suggests that the hosts could withstand even more intense traffic with no problem whatsoever.
Overall, you can be assured that Nexcess will easily support big spikes in traffic.
All things considered, Nexcess demonstrated incredible performance on all fronts. It has excellent uptime, average response time, and loading time. Plus, it handled intense traffic without breaking a sweat.
READ ALSO: Hostinger Review as an Expert
Nexcess Pricing Plans
Nexcess offers a wide range of pricing plans for people of all budgets, starting from the $20 Spark plan that we used to test the performance, and this pricing plan ranges all the way up to enterprise-focused plans that cost almost $1,000 per month.
With all the plans, you can either pay monthly or pay annually to get two months free.
There are 7 Nexcess Managed WordPress hosting plans, which are run on a cloud infrastructure.
All pricing plans come with free SSL, unlimited email accounts, WordPress core and plugin updates, daily offsite backups, 1-click staging, caching, Content Delivery Network (CDN), and iThemes Security Pro.
While there are many similarities, the main differences lie in the amount of resources included:
| | | |
| --- | --- | --- |
| Plan | Features | Price |
| Spark | can host 1 site and includes 15GB storage and 2TB bandwidth. | $15/mo |
| Maker | can host 5 sites and includes 40GB storage and 3TB bandwidth. | $65/mo |
| Designer | can host 10 sites and includes 60GB storage and 4TB bandwidth. | $90/mo |
| Builder | can host 25 sites and includes 100GB storage and 5TB bandwidth. | $124/mo |
| Producer | can host 50 sites and includes 300GB storage and 5TB bandwidth. | $249/mo |
| Executive | can host 100 sites and includes 500GB storage and 10TB bandwidth. | $457/mo |
| Enterprise | can host 250 sites and include 800GB storage and 10TB bandwidth | $832/mo |
Nexcess Managed WordPress Hosting Plans
Clearly, Nexcess selection of plans is skewed more towards professional users like developers, agencies, online stores, and enterprises.
Nexcess Managed WooCommerce Hosting Plans
If you use the managed WooCommerce hosting, there's also a limit on the maximum number of orders per hour.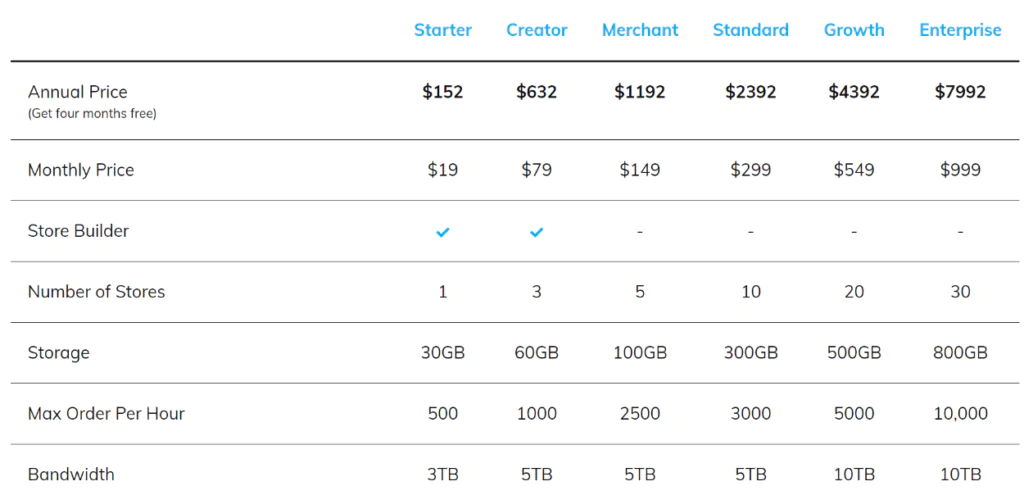 In case you happen to change your mind, you'd be glad to know that Nexcess has a 30-day money-back guarantee. By canceling your services within this time, you are eligible for a full refund.
Nexcess Pros and Cons
| | |
| --- | --- |
| Pros | Cons |
| + 100% uptime guarantee | – Domain is not included |
| + All plans come with one-click staging sites | – High pricing |
| + 30-day money-back guarantee available for all packages | – Storage space is smaller than ideal |
| + Free Daily Backups | – DDoS protection is not included in any plan |
| + Built-in CDN | |
| + Free migration services | |
Nexcess Pros and Cons
Nexcess Alternatives
Here are some of the Nexcess alternatives you should consider checking out for yourself:
Frequently Asked Questions
What is Nexcess used for?
Nexcess is a managed hosting provider with options for all skill levels, whether you're just getting started with web hosting or an experienced developer.
Where is Nexcess located?
Nexcess is headquartered in Southfield, MI.
Does Nexcess have cPanel?
The Nexcess Client Portal is similar to cPanel. It offers all the same features your find with cPanel in a slightly different interface.
What is the difference between Liquid Web and Nexcess?
Liquid Web is the best solution if you want Dedicated or VPS hosting. Nexcess is better for WordPress and E-commerce hosting.
It also depends on your budget and how much traffic you're expecting—Nexcess is cheaper and budget-friendly, but Liquid Web is better for high-load websites and scaling.
What are the best alternatives to Nexcess?
Who owns Nexcess?
Is managed WordPress hosting better than unmanaged?
It depends on who is using it.
Managed WordPress hosting is better for beginners or busy business owners.
With managed hosting services, the user has fewer things to worry about.
Nexcess agents take care of security threats, as well as program and CMS updates.
What is Nexcess's uptime guarantee?
Yes, Nexcess has a 99.99% uptime guarantee.
Summary: Is Nexcess Right for Your Business?
Is Nexcess right for your business? this question should be now easier to answer considering all our efforts to analyze the hosting company features, pricing, pros, and cons.
Nexcess is great and a much-recommended hosting option for those looking to run a WordPress site worry-free. For a reasonable price, you get to enjoy a managed service, ease of use, and very impressive performance.
Yes! I do recommend Nexcess and as a token for reading my Nexcess review, I've provided you with a customized Nexcess discount for any plan you choose. All you need to do is click on the button/link below and it will be automatically applied to your cart during purchase.
Nexcess Coupon/Discount Offer
All Nwaeze David readers get a discount when opening an account for the first time with Nexcess. To claim yours, click the button/link below and the discount will be automatically applied to your Nexcess cart.
We are sorry that this post was not useful for you!
Let us improve this post!
Tell us how we can improve this post?