If you host your WordPress with a VPS or Cloud hosting, your website will definitely benefit a lot from the power server, right? Well, that is why Liquid Web hosting is a great option to consider and we're going to do a deep dive in this Liquid Web Review to help you determine if this is the best option for you.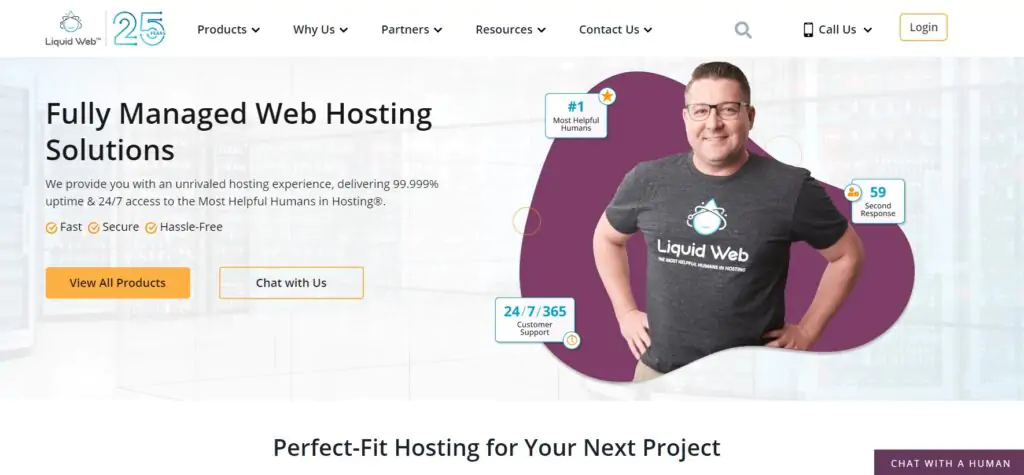 Liquid Web specializes in providing managed VPS hosting, managed cloud hosting, and dedicated server hosting. They're famous for their Heroic Support, with lightning-fast response times and skilled support staff.
This article will reveal our expert Liquid Web review to help you decide if it's the right choice for you.
Liquid Web Review Summary
| | |
| --- | --- |
| ⭐ Rating: | 4.1★★★★☆ |
| 💲 Price: | Prices start at $15.00/month |
| ▶️ Uptime: | 100% |
| 🏘️ Hosting types: | Managed WordPress, VPS, Cloud, and dedicated hosting |
| 🌎 Server locations: | The US and Europe |
| 👨‍💻 Support: | 24/7 live chat, phone, or tickets |
| 🔥 Coupons: | Liquid Web VPS coupon 75% OFF |
Bottom Line: Liquid Web Hosting is designed for experts with big pockets and in need of fast growth. The hosting company specializes in VPS hosting and Cloud hosting, which means that anyone using Liquid Web is ready to build a heavy-duty website. 
If you are a big brand, then this is the best hosting option for you. 
If you are not a beginner and you want to build a big website, then Liquid Web is a great option for you. They are reliable for big brands.
Liquid Web Pros & Cons
| | |
| --- | --- |
| Pros | Cons |
| – Super fast servers | – No free domain |
| – Great customer support | – No Money Back Guarantee |
| – 1-click WordPress install | – High pricing |
| – Free SSL, CDN, and Website Backups | – No Shared Hosting |
| – Easy Staging Tools | |
| – Integrated Firewall and Security | |
Now, that you have gone through the Liquid Web Review summary, if you desire to have more detailed information about the hosting company, then follow me as we do a deep dive and reveal all the features, pricing, and capabilities of Liquid Web Hosting.
READ ALSO: Pressable Hosting Review [Features, Benefits, pros & cons] 
Introduction to Liquid Web Hosting
Liquid Web Hosting was founded in 1997 by Matthew Hill, and up until now, they have provided managed web hosting for over 30,000 clients in more than 150 countries around the world. They serve many recognizable big-name brands including Motorola, Red Bull, ESPN, and United Way.
Liquid Web is headquartered in Lansing, Michigan, where they own three of its own data centers. They also have additional data centers in Chicago, Dallas, Phoenix, and Amsterdam.
Liquid Web Pricing & Plans
Liquid Web Hosting is a premium provider with many different hosting solutions. The prices start at $13.30/mo for its daughter company – Nexcess – Managed WordPress plans.
However, the most popular solution is Liquid Web's VPS hosting starting at $15.00/mo. Additionally, there are more advanced solutions, such as dedicated servers and Public Cloud too.
| | |
| --- | --- |
| Type of hosting | Best for |
| Managed WordPress hosting | High scalability on the cPanel platform for enterprises. |
| VPS hosting | Online stores, and popular and commercial blogs will benefit the most. Fully managed and easy to use. |
| Dedicated server hosting | High-security enterprise hosting for websites and applications. |
| Public Cloud hosting | Online stores and popular and commercial blogs will benefit the most. Fully managed and easy to use. |
They do offer fully managed dedicated servers, VPS hosting, cloud hosting, and managed WordPress hosting. They also offer enterprise and custom solutions.
Their premium managed WordPress hosting is optimized specifically for WordPress and tuned for speed, performance, and security. Unlike other managed WordPress hosting providers, there are no limits on the number of visitors you can have or the plugins you can use.
Liquid Web's Managed WordPress hosting comes in three tiers: Personal, Professional, and Agency. They differ based on the number of websites you can host. All plans include:
pre-installed WordPress
automatic WordPress updates
automatic backups and one-click backup restores
choice of Liquid Web's WordPress Dashboard, iThemes Sync Pro, or cPanel with WP-CLI/SSH Access
one-click staging sites (available with the WordPress dashboard only)
free SSL certificates
free migration
For cloud hosting, you can choose from fully managed Cloud VPS hosting, Cloud Dedicated servers, or Cloud Sites for designers and web professionals.
Liquid Web's cloud hosting plans are built on their Storm platform which includes SSD drives, CloudFlare CDN, built-in backups, enhanced security, and DDoS protection.
Storm VPS Cloud Servers are customizable servers of several different sizes and configurations, all in a shared cloud environment. There are several tiers of VPS hosting available based on the amount of RAM, processing power, and disk space you need.
Cloud hosting plans also include instant provisioning and daily billing, so you can adjust your plan on the fly and only pay for what you use.
How Many Hosting Plans Does Liquid Web Have?
Liquid Web Hosting has 4 main VPS hosting plans. Alternatively, if you're willing to pay extra, you can get Bundle & Save hosting packages that contain additional features such as professional email, an extra 100GB backup quota, server protection, and a Threat Stack Oversight Detection system.
In any case, all plans come with the same 10TB of bandwidth, DDoS protection, monitoring, and a firewall.
| | | |
| --- | --- | --- |
| Plan | Features | Price |
| 2GB RAM | 2 GB RAM, 2 CPUs, and 40GB SSD disk space. | $15.00/mo |
| 4GB RAM | 4 GB RAM, 4 CPUs, and 100GB SSD disk space. | $25.00/mo |
| 8GB RAM | 8 GB RAM, 8 CPUs, and 150GB SSD disk space. | $35.00/mo |
| 16GB RAM | 16 GB RAM, 8 CPUs, and 200GB SSD disk space. | $95.00/mo |
At this point, everything depends on your project's needs. Only you or your developer can calculate how many server resources will be needed.
However, if you're still in the development phase – simply pick the cheapest plan and scale as needed.
READ ALSO: HostGator Review: Pricing, Features, Pros & Cons 
Liquid Web Hosting Performance
One of the most important performance indicators is your website's speed. It not only affects user experience, but it also adversely affects your site's SEO.
Studies prove that a 1-second delay in website speed can reduce your conversions by 7%. A delay of 3 seconds can cost you 50% of your traffic.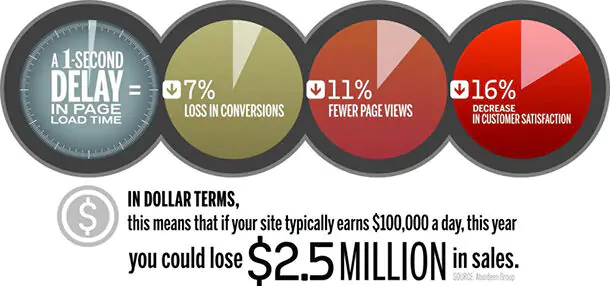 Now let's see how Liquid Web will perform under thorough testing.
Liquid Web Speed Test Results
For you to have a faster website, you'll need faster hosting. To test this out we signed up for Liquid Web hosting and created a dummy test site. We used the default twenty-seventeen theme and filled it with content and images so that it looks like an average WordPress site.
First, we used Pingdom to test our demo site's speed. Here are the test results:
As you can see, our Liquid Web test site loaded in less than a second for a server in California. That means our site is faster than 91% of tested sites.
After that, we ran the Load Impact test on Liquid Web servers where we gradually built up to 100 unique visitors at once to see how the server would handle increased requests from multiple connections at once.

The blue line is the number of active virtual users on the site, and the green line is the server load time. As the chart shows, Liquid Web's server load remained stable throughout the test even at peak traffic.
Next, we ran a response time test to see how fast Liquid Web servers respond to requests from different geographic locations.
As you can see from the provided results, the Liquid Web Hosting test site responded within less than a second. The response time was particularly great in the United States; so if your primary audience is the USA, you are good.
READ ALSO: A2 Hosting Review: Features, Pricing, Pros & Cons 
Frequently Asked Questions
What is liquid web used for?
Liquid Web is a Managed Hosting provider offering reliable and highly-performant virtual private servers, dedicated servers, and private cloud hosting servers with 24/7/365 Support.
Who owns Liquidweb?
Madison Dearborn Partners
Liquid Web was acquired by Madison Dearborn Partners on Jul 1, 2015.
Where is Liquid Web located?
Lansing, Michigan
Liquid Web is headquartered in Lansing, Michigan.
Is Liquid Web a good hosting provider?
Yes, Liquid Web is a good hosting provider for big brands.
Its services cost a bit more than most, but the quality makes up for it. Users will get powerful features, excellent 24/7 customer support, and reliable uptime.
It is a popular choice for anyone looking for mission-critical hosting.
In Summary: Is Liquid Web Right for You?
There you have it, a more detailed Liquid Web Review explaining how the hosting company works. Now that you have read through our entire Liquid Web review, you might be wondering whether Liquid Web is the right web host for you.
Well, as I said earlier, Liquid Web is made for big brands and they are also famous for their Heroic Support. Customers rave about how friendly and helpful the staff is, and many mention feeling like "part of the family."
Liquid Web support responds very quickly to any inquiry via phone, live chat, or support ticket, and works with you to figure out and fix any problems.
Are you ready to get started with Liquid Web? Click here to select your Liquid Web plan today at a discount price.
Liquid Web Hosting Coupon
Nwaeze David users get an exclusive 75% off discount on Liquid Web + Free SSL with our Liquid Web coupon code. Click Here to get a 75% hosting discount or you can use the button/link below to claim yours.