When starting a new website, most of the time you'll want to buy unique domain names at a very cheap price, right? Well, you are about to get a treat in this Namecheap review, because, Namecheap is one of the best options out there as far as affordable domain names go.
Their pricing starts as low as $0.99 for a domain for your first year with plenty of helpful add-ons.
It goes beyond just domain names and provides reliable hosting for more than 1.5 million websites of all shapes and sizes. This includes big clients like Buffer, Figma, and Imgur.
In short, Namecheap is one of the top domain name registrars out there as an affordable and reliable domain and hosting option.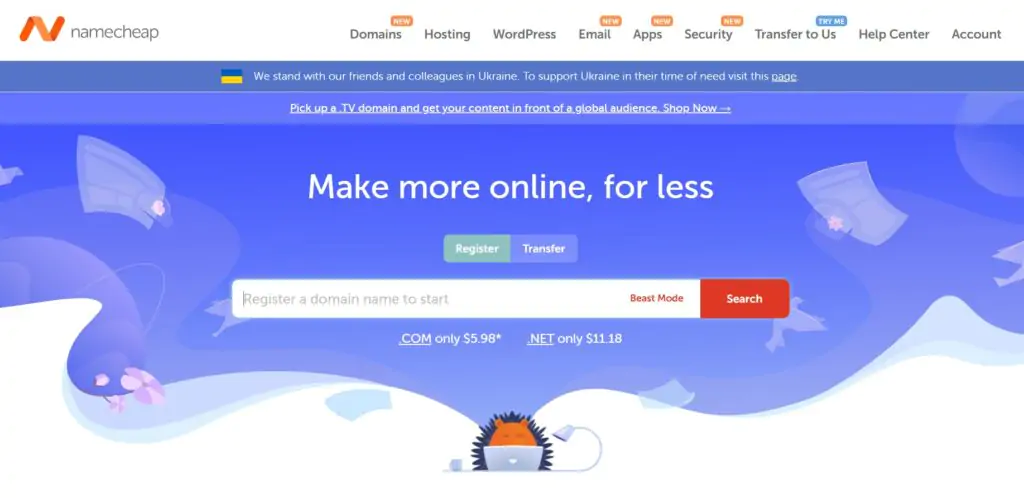 Introduction to Namecheap
Namecheap is a web hosting and domain registration company founded by Richard Kirkendall in 2000. Its hosting plans include free automatic SSL installation, a free website builder, domain name and privacy protection, and unmetered bandwidth.
In addition, the company offers a range of other services such as VPN services, website builders, and SSL certificates to help customers build their online presence. The company is a leading ICANN Accredited Domain Registrar, with over 2 million customers and over 16 million domains worldwide.
What does Namecheap Offer?
Namecheap does offer a range of web hosting services (features) that provide users with the resources needed to host their website, including server space, bandwidth, and technical support.
You can choose your preferred service based on different website requirements and budgets, such as:
Shared hosting: Shared hosting is a type of web hosting where multiple websites are hosted on a single physical server. Thanks to this approach, numerous users can share the resources of a single server and keep costs low. Namecheap's shared hosting plans come with features such as free domain registration, cPanel, unmetered bandwidth, and a free website builder.
WordPress hosting: Namecheap's WordPress hosting plans are optimized to provide faster loading times and better performance. The plans include an easy-to-use installer, SSL certificates, and automatic backups.
Reseller hosting: Namecheap's reseller hosting plans allow users to sell hosting plans to their customers under their brand name, with the option to white label Namecheap's hosting services.
VPS hosting: Namecheap's VPS hosting plans offer dedicated resources and full root access. The solution is completely customizable, allowing users to choose their operating system (Ubuntu, CentOS, or Debian), get root access to the server, and determine whether the control panel (cPanel) will be installed.
Dedicated hosting: Namecheap's dedicated hosting plans provide users with complete control over their server, with dedicated resources and a choice of an operating system.
Email hosting: Namecheap's email hosting plans provide users with a business email address with their domain name, secure webmail access, and spam protection.
READ ALSO: Pressable Hosting Review [Features, Benefits, pros & cons] 
Namecheap Pricing & Plans
Namecheap does differentiate itself when it comes to domain pricing. It is constantly one of the most affordable ways to meet your web hosting and domain needs.
Here's a look at the initial domain prices for different extensions:
Some of their most popular domain extensions go for:
.Com – $8.88 with a $12.98 renewal rate
.Net – $10.98 with a $14.98 renewal rate
.Org – $9.18 with a $14.98 renewal rate
.Io – $32.98 with a $34.98 renewal rate
.Co – $7.98 with a $25.98 renewal rate
.Ai – $58.98 with a $68.88 renewal rate
.Ca – $11.98 with a $13.98 renewal rate
You can even find cheap domain deals on Namecheap for as low as $0.99 for certain extensions. This is the lowest price you are ever going to find.
If you take the time to compare these to other prominent domain registrars, like Bluehost or, Pressable, you'll see just how much cheaper Namecheap can be. After all, the word "cheap" is in its name for a reason.
It's worth taking a look at its web hosting prices, too.
Namecheap Shared Hosting Pricing and Plans
| | Stellar | Stellar Plus | Stellar Business |
| --- | --- | --- | --- |
| Introductory Pricing | $18.96 for the first year | $30.96 for the first year | $58.88 for the first year |
| Renewal Pricing | $44.88 per year | $68.88 per year | $108.88 per year |
| Contract Lengths Available | Monthly, yearly, and biennial billing cycles | Monthly, yearly, and biennial billing cycles | Monthly, yearly, and biennial billing cycles |
| Storage | 20GB SSD | Unmetered SSD | 50GB SSD |
| Bandwidth | Unmetered | Unmetered | Unmetered |
| Free Domain Name | ✔ | ✔ | ✔ |
| Free SSL Certificate | For one year | For one year | For one year |
| cPanel | ✔ | ✔ | ✔ |
| Security | ✔ | ✔ | ✔ |
| Business Email | ✔ | ✔ | ✔ |
| Uptime Guarantee | | 100% | 100% |
| Money-Back Guarantee | 30 days | 30 days | 30 days |
| Customer Support | ✔ | ✔ | ✔ |
Namecheap Stellar
Namecheap's most basic shared hosting plan lets you host up to three websites with your preferred CMS. It includes a 20GB SSD, as well as unmetered bandwidth. You also get access to its free website builder and email service.
As a bonus, Namecheap also offers a free domain name and a free SSL certificate for one year in all plans. While its introductory pricing is an easily affordable $18.96 for the first year, you'll have to pay $44.88 to renew it at the end of the term.
Namecheap Stellar Plus
Starting at $30.96 per year, users can create unlimited websites, automatic backups, and unmetered SSD. Unlike the Stellar plan, the Stellar Plus plan offers unlimited hosted domains, parked domains, and subdomains. There are also unlimited email accounts, semiweekly backups, and auto-backup.
Namecheap Stellar Business
Similar to its predecessor, this plan offers unlimited websites and unlimited domain-based mailboxes. Notably, you'll get access to 50GB SSD, auto-backup, and cloud storage. Its Business plan is also equipped with PHP accelerators such as eAccelerator and xCache, which are designed to boost the performance of websites and apps.
Namecheap Reseller Hosting Pricing and Plans
Nebula – $19.88 a month
Galaxy Expert – $36.88 a month
Universe Pro – $54.88 a month
All Reseller Hosting plans come with unmetered bandwidth, Free cPanel/WHM, and a 30-day money-back guarantee.
Namecheap WordPress Hosting Pricing and Plans
EasyWP Starter – $3.88
EasyWP Turbo – $7.88
EasyWP Supersonic – $11.88
All WordPress Hosting plans also come with handy features like 99.9 percent uptime, faster site load times, easy backups and restores, SFTP and database access, and easy WordPress installation.
Namecheap Email Hosting Pricing and Plans
Starter – $0.74 a month
Pro – $2.12 a month
Ultimate – $3.49 a month
All Namecheap email plans include custom domain-based email, anti-spam protection, Safe access with 2FA, Unified Inbox, POP3/IMAP/Webmail access, and HTML signatures.
Namecheap VPS Hosting Pricing and Plans
Pulsar – $9.88 a month
Quasar – $15.88 a month
Though Namecheap doesn't offer a ton of VPS hosting options, its two plans both include full root access and operating system (OS) selection, your choice of server management, top security standards, free transfers of existing websites, and, of course, a 30-day money-back guarantee if you aren't satisfied with its service.
Namecheap Dedicated Hosting Pricing and Plans
Xeon E3-1240 v3 – $40.88 a month
Xeon E-2236 – $78.88 a month
Dual AMD EPYC 7282 – $255.88 a month
These are only a few of the dedicated server options Namecheap offers. They don't stop there.
If you want to take a look at all of its plans, you'll want to spend some time on this dedicated server page, where you can personalize plans by the amount of CPU you need, your price range, RAM, and more. I love this feature because it means you can get specific with your dedicated hosting plan.
READ ALSO: HostGator Review: Pricing, Features, Pros & Cons 
Namecheap Pros and Cons
Pros
Cons
– Easy to use: Namecheap has an easy user interface where you can purchase what you're looking for relatively fast without confusing hoops to jump through. If tech isn't your area of expertise, this is a great plus.
– Downtime issues: Namecheap provides site uptime monitoring that checks for problems every five minutes and then logs your site's performance on your personal dashboard.

However, some users have had problems with cases of downtime, despite other periods in the 99% uptime range.
– Free domain privacy: One of the best features of Namecheap is its forever free domain privacy. Other options like Godaddy offer domain privacy for an extra fee and an add-on you have to continue to renew every so often if you want to keep it.
– Renewal rates: If you have experience with domain registrars, you're probably familiar with the fact that most of them include higher renewal rates after your initial domain registration period is over.

In this area, Namecheap is better than most, but it's still something to be aware of.
– Free migration: Namecheap helps you move your WordPress website to its hosting services for free within 24 hours. All you have to do is fill in and submit a request with a few of your site's details.
– Domain transfer fees: While it's easy to transfer your domain registration over to Namecheap, it does charge a fee that can vary depending on if you have a coupon code for a discount.
– Affordable all around: Namecheap differentiates itself in price, which is great for beginner sites that want to get their start without burning through too much of their budget.
– Updates to TLDs: Namecheap continually updates its list of top-level extensions so you can be sure you can always take your pick from extensions you might be interested in other than the popular .com.
– Free apps: Namecheap offers site-building apps that are both free and paid you can use for the success of your site, including logo-building apps, site speed optimization, and even apps that help you with forming a proper LLC.
– Great support: Namecheap offers live chat or a support ticket option if you run into site trouble and need someone to walk you through any troubleshooting you might need.
– Guides and videos: If you're stuck and are a DIYer, Namecheap offers plenty of how-to guides and videos, along with an extensive and detailed knowledge base.
– Easy domain transfer: Want to transfer your domain to Namecheap? You can easily do it by submitting a ticket with all the necessary details. It can take anywhere from 30 minutes to six business days.
Namecheap pros and cons
Namecheap Security
One popular joke I and my colleagues use most of the time is this:
As strange as that may sound, website security is super essential. If you don't take security seriously, your hard work can be destroyed easily by the bad guys.
Without a doubt, one of Namecheap's best differentiators from other hosting companies is its dedication to privacy and site security.
Features like two-factor authentication, the ability to safely unblock content with its VPN service, and personal privacy and browsing protection ensure your safety online.
Other domain registrars don't put as much care into their safety features and not many offer free privacy protection when you purchase a domain from them.
READ ALSO: A2 Hosting Review: Features, Pricing, Pros & Cons 
Namecheap Alternatives
Here's a list of all the Namecheap alternatives that you can try out on your own time. We have also reviewed most of them for you. Enjoy!
In Summary: Is Namecheap Right for Me?
Namecheap as explained in this review offers competitive pricing for its basic shared hosting plans, and those plans include enough to get your small website up and running—with twice-weekly automatic backups, a free SSL certificate, and a 100% uptime guarantee.
Yes, these starter plans are where Namecheap shines, but you need to be sure if it suits you before using it.
Namecheap Is Best For:
Users looking for a budget-friendly option: Namecheap offers competitive pricing for its web hosting services, making it an affordable option for individuals and small businesses.
Customers seeking multiple hosting options: Namecheap offers a range of web hosting options, including shared hosting, VPS hosting, dedicated servers, and managed WordPress hosting, allowing users to choose the option that best suits their needs.
Namecheap Is Not Recommended For:
International users seeking nearer data center locations: Namecheap's data centers are located primarily in the U.S. and U.K. If you're a user based in Asia or other regions, you'll find better options elsewhere for performance or regulatory reasons.
Medium-sized businesses and companies looking for premium features: While Namecheap provides excellent basic features for web hosting and domain registration, it may not have all the advanced features that larger businesses or more technically advanced users may require.
Customers seeking low renewal rates: While Namecheap offers cheap pricing for new users, its renewal rates increase significantly after one year. This is a downside for users looking to host their website in the long term.
Frequently Asked Questions
What are the different types of web hosting services?
There are a number of different web hosting services, but the most common are shared, VPS (virtual private server), and dedicated.
Shared is the most popular choice as it's also the most affordable.
However, VPS and dedicated hosting offer more site security and enhanced website performance, making them a more popular choice amongst large and well-established websites.
Is Namecheap secure?
Namecheap plans come with SSL certificates for your hosted content as well as two-factor authentication, DDoS protection, and other modern security tools.
The company offers everything you need to keep your site and your visitors safe.
How long does it take to activate web hosting services?
Hosting activation periods will differ depending on the web hosting company.
Typically, once you've registered your domain name and hosting plan, it can take a few minutes to complete.
However, more complex setups like VPS plans may take a few hours. Before signing up, it's best to check with the hosting company to see how long it'll take.
What is a VPS hosting plan?
Virtual Private Servers, or VPS, use a type of technology that uses one server and splits them up into multiple servers.
It acts like a dedicated server, where it's reserved for one user only.
What is an SSL certificate?
An SSL, or Secure Sockets Layer, the certificate ensures that a website is authenticated and all information sent between the user and the website is encrypted and secure.
How do I permanently buy a domain name?
The simple answer here is: You can't buy a domain permanently.
Domain registration is more like a rental or leasing service. Most domain registrars allow you to register your domain for up to 10 years at a time, and they'll usually offer an auto-renewal service, so you don't lose your domain.