As an internet user, you will no doubt be familiar with popular image sites, Instagram and Pinterest. These sites are key partners to marketing your business online hence this Tailwind review.
Since the inception of Pinterest in 2010, it has become one of the world's most-used social media platforms with 1600 employees and over 320 million active users around the world.
Founded and launched in 2010 by Ben Silbermann, Pinterest is enjoyed by tons of personal users growth who are all keen to share their favorite photos and selfies. More importantly, though, Pinterest has become a go-to marketing tool for influencers, bloggers, and businesses.
Using platforms such as Pinterest or Instagram for business social media marketing is, of course, very different from posting pics of your cat and can involve a lot of work and complex strategies.
The good news is this: Businesses can now get a helping hand with some really handy tools and resources such as Tailwind.
READ ALSO: QuickBooks Review 2023 | Things You Should Note Before Switching Payroll Provider
Disclosure: I may receive affiliate compensation for some of the links below at no cost to you if you decide to purchase a paid plan. You can read our affiliate disclosure in our privacy policy. This site is not intending to provide financial advice. This is for entertainment only. 
Introduction to Tailwind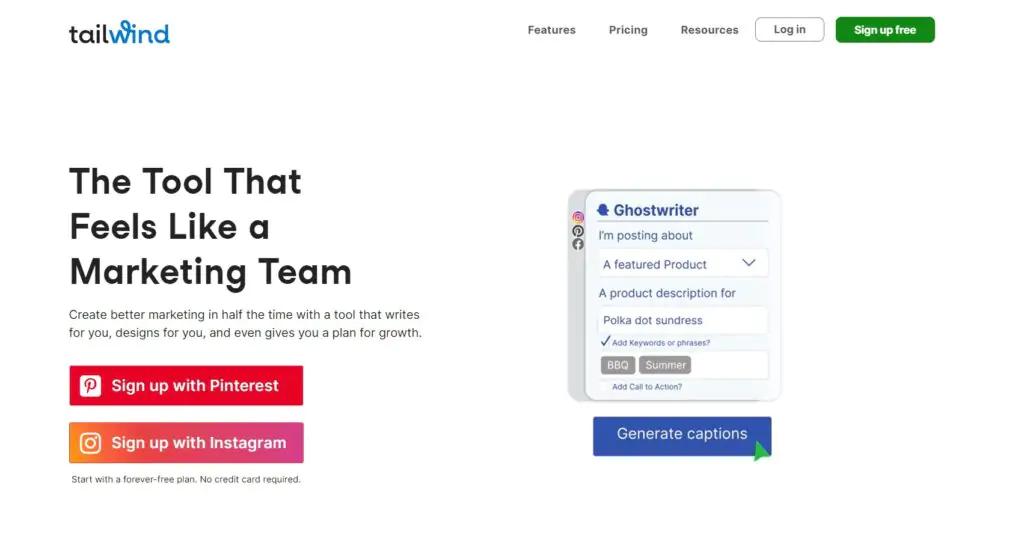 Founded in 2015 by Alex and Danny; Tailwind, with over half a million users, has grown to become a powerhouse for social media marketing and automation.
Are you looking for the best tool to take your social media marketing reach to the next level? Then, look no further than Tailwind.
You can easily Automate tedious and time-consuming tasks like content creation and publishing across platforms like Instagram, Pinterest, and Facebook so that you can focus on what really matters – growing your audience smarter and faster.
Tailwind Features
Tailwind, as mentioned above is a marketing graphic design tool and also a social media scheduler/marketing tool. They're been used by big brands such as Shopify, Jenny Yoo, and more.
You can use the app to create social media content on the fly, then publish or schedule that content immediately.
Here's an overview of the Tailwind features:
Publish content to Instagram, Pinterest, and Facebook
Create content for all platforms with one post
Save drafts for later
Instagram marketing features: publish regular posts, carousel posts, and Stories for Instagram
Graphic design tool
Built-in link in bio tool
Hashtag suggestions
Save hashtags
Communities feature for Pinterest marketing
Apps for the web, Android and iOS
Extensions for Chrome, Firefox, and Safari
Ghostwriter Blog Wizard
With Tailwind, you can schedule posts, create marketing posts and graphics, Engage with the Tailwind communities and share ideas, create a very smart bio page for your business, and stay ahead in your email marketing strategies.
About Tailwind Ghostwriter Blog Wizard
One of the standout features of Tailwind is the Ghostwriter Blog Creation Wizard, which allows you to generate a draft blog post in minutes in the following steps:
you type what your article is about
Ghostwriter gives you up to 5 titles and summaries
you pick the one you want
Ghostwriter creates an outline that you can edit
and then writes the blog post in real-time in front of your eyes
How To Open an Account with Tailwind
To open an account with Tailwind, you'll need either an Instagram or Pinterest account. So, if you don't already have these, signing up is really easy – simply access the site and then follow the directions to open your account.
Once your Pinterest and Instagram account is up and running, you're ready to open an account with Tailwind. Just follow the steps below:
Go to Tailwind Website
Choose either Instagram or Pinterest
Make sure that the account shown is the correct one and then click on 'Give Access'
Enter your name and email address and choose a password
Select the marketing needs box which best describes you
Click on 'Complete Your Account.
Click on 'Install Chrome Extension'
Once you've done all of this, your account will be set up and you're ready to get started with Tailwind.
If you want to have accounts for both Pinterest and Instagram, simply go back and repeat the process. That's it!
Tailwind Pros and Cons
| | |
| --- | --- |
| Pros | Cons |
| – Dashboard is intuitive | – Laggy and unresponsive at times |
| – Setup and connecting apps are easy | – Auto post not available for posts with multiple images |
| – Scheduling posts is efficient, especially Instagram scheduling | – Requires an Instagram Business account for the auto post. Could be bad for Instagram marketing |
| – Schedule pins on the fly | – Requires an Instagram Business account for the auto post. Could be bad for an Instagram marketing |
| – Cross posting to multiple platforms is simple | – Trouble setting up Communities |
| – Create tool is easy to use and has decent designs | – No Twitter or LinkedIn support |
| – Cross-posting to multiple platforms is simple | – No required feature |
| – Built-in hashtag tool | – No proper way to save custom designs |
| – Tailwind Communities is a fantastic Pinterest marketing tool | – Can only post hashtags to your Instagram post's first comment |
| – Drafts save automatically, so no work is lost | – No inbox features |
| – Smart.bio page is simple but useful | – Templates and elements of design tools are basic |
| – Autofit is applied to images, so you don't need to upload images in a specific aspect ratio | |
| – Customer service follows up | |
| – The mobile app works great | |
Tailwind Pros and Cons
Tailwind Pricing
Tailwind has a forever free plan with the following benefits:
1 account per social media platform.
Publish 20 posts per month.
Create 20 post designs per month.
Join up to 5 Tailwind communities.
1 user.
There are three premium plans available that offer the following:
1-3 accounts per platform.
100 to unlimited posts per month.
200 to unlimited post designs per month.
Join 5 to an unlimited number of Tailwind communities.
1-5 users.
The pricing starts at $19.99/month, and you can also get a 50% discount is offered on annual plans.
READ ALSO: Choose the Best Payroll Provider for Your Company | Top 7 Qualities of a Good Payroll Provider to look out for
Tailwind Alternatives
Just like every other social media marketing and automation tool, there's always an alternative tool, right? So here are some Tailwind alternatives:
Frequently Asked Questions
Is Tailwind approved by Instagram?
YES!
Tailwind is an official Instagram Partner, so you can rest easy knowing your account is safe.
Is Tailwind free or paid?
Tailwind has a forever free plan and also a paid version.
Tailwind paid version starts at US$19.99/month.
Is Tailwind good for beginners?
I will say yes, Tailwind is simple and easy to understand.
It's true that it might take some time to get the hang of all the utility class names, but you can always refer to their documentation whenever you get stuck.
Final Thought: Is Tailwind Good for Your Social Media Marketing?
Honestly, the Instagram/Pinterest scheduling and publishing tools alone are worth the price; every other feature they offer is an extra bonus. This simple tool ups your social media strategy immensely and saves you a lot of time!
Tailwind has an excellent result when it comes to Analytics – the results are fast, accurate, and informative and really help to show you where you're doing well and, where you may need a little guidance to make sure you're getting the best results.
They do a great job in terms of assessing your marketing efforts.
Interestingly, Tailwind has a plan for all user types no matter what size your audience is. You can get started with a forever free plan that allows you to connect one account per platform and publish up to 20 posts per month.
Disclosure: I may receive affiliate compensation for some of the links below at no cost to you if you decide to purchase a paid plan. You can read our affiliate disclosure in our privacy policy. This site is not intending to provide financial advice. This is for entertainment only.